By Andy Sandefer, Manager of Software Engineering
This summer, I and other members of our technology team have had the opportunity to interact and partner with some of the best tech talent in Indianapolis. One such event was the Indy Civic Hack on June 23. Sponsored by the Indy Chamber of Commerce and TechPoint, this event is part of the Hack Indiana Series, which is designed to promote a culture of civic responsibility, technological innovation and local entrepreneurship in the Indianapolis technology landscape. The Hack Indiana Series is also unique in the respect that certain events focus on collaboration and competition with other technology communities throughout the country.
NextGear Capital was a supporting sponsor of the Indy Civic Hack that featured teams of software developers ranging in experience levels from college interns to seasoned technology company veterans. Our company was well represented by Xtern participants George Ruan, Jordan Field and Lisa Campbell.
I participated as a mentor and speaker, detailing the journey that NextGear Capital's technology team has travelled in our quest to bring software development in house. In only one year, we have grown our software development team from 10 members to over 100!
The event was held at the Eleven Fifty Coding Academy, which is actually a house owned by local entrepreneur and inventor Scott Jones. The teams worked hard all day and into the night, focused on prototyping technology solutions for the City of Indianapolis Department of Building Code Enforcement, Indianapolis Public Schools and the Family and Social Services Administration. At the end of the day, a panel of judges comprised of city technology leaders selected finalists in various categories and the selected teams were then given an additional 10 days to refine their solutions before a final judging. You can read more about the winners of the TechPoint-sponsored event site at http://techpoint.org/indy-civic-hack/.
Recently, NextGear Capital hosted the Xtern "Freak What You Feel" Hackathon during the weekend of July 25-26. The event lasted approximately 30 hours and consisted of approximately 35 Xterns flexing their collective technological might to develop a wide array of technology solutions.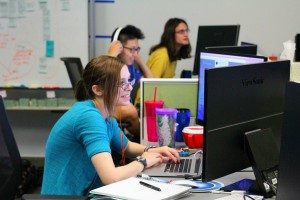 After spending all day and most of the night developing, the Xterns came together to present their ideas before a panel of judges and their peers. One of the winning ideas was called ProtoApp, a website that allows users to speedily create prototypes for not only iPhone apps but also Android. Another winning idea was an Android app that allows users to sync their phones to play the same song, essentially creating a stereo system for the users.