By Daisy Hibbard, Events & Community Relations Coordinator
Most of us have been touched by breast cancer in one way or another. The American Cancer Society has stated there will be more than 231,000 new cases of breast cancer diagnosed in U.S. women this year. Not only does the disease send patients on a long and frightening journey, but it also disrupts the lives of millions of family members and friends as well.
Just before I sat down to write this blog, my friend canceled our evening plans because her grandmother was just diagnosed with breast cancer. Even though I have never met this woman, I can't stop thinking about what is in store for her and her family, and I can only wish them all the best.
The women in our lives are typically viewed as the foundation of our families. They are warm and kind, provide us with a sense of worth and love, share their wisdom, and work hard to uphold values. When we lose a woman close to us, chances are we are left with a hole in our hearts that can never be filled.
In early 1994, my mom sat me down and told me her sister had cancer and was taken to the hospital. I was 7 and didn't really understand what was happening. I thought cancer was just a bad case of the flu and you had to go to the hospital to get special medicine.
I remember my aunt as one of the most beautiful women I have ever seen. She was a beautician, so she had the most perfectly permed hair and expert eye makeup. We picked green beans together the summer before she was diagnosed and on Halloween that year, she almost made me pee my pants when she didn't answer her door but instead ran up behind me dressed as a sheet ghost. I screamed, dropped my candy, ran to our car and locked myself inside while my mom and aunt almost fell over laughing.
A few months later, when I walked into her hospital room, I didn't recognize my aunt. Her beautiful, perfect hair was gone. She looked sullen and weak. Even though she had no makeup on, she was still pretty when she smiled at me and took my hand for the last time. A week later, she lost her battle with breast cancer at the age of 47.
My mom always talks about how well my aunt and I would have gotten along. She was creative and a prankster; always having fun (which explains the sheet ghost incident).
Survival rates have increased and there is hope. Since I have been with NextGear Capital, two of my co-workers have been diagnosed with breast cancer. Each time, the news was shared with only a handful of employees, but in no time, the whole company came together to support these women, who are like family to us. Bake sales were held, t-shirts were sold, meals were baked, and we all hoped they would recover and return to work as they are both valuable assets to their departments. Never have I worked for a company in which the employees showed such support for one of their own. It really says something about the culture at NextGear Capital.
This summer, one of these women celebrated her last radiation treatment and we celebrated with her. We all wore the t-shirts we had purchased the year before to support her, including our top executives. It was a happy reminder that there is hope.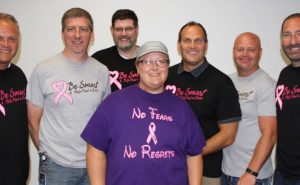 We are also lucky to be a part of Cox Automotive (and, more largely, Cox Enterprises), which cares about its employees and understands that healthy employees are happy and more productive. Every fall, Cox Enterprises holds a campaign called Know Your Numbers. The key to the program is catching illnesses and diseases early. That's also especially the case with breast cancer. According to the American Cancer Society, if the disease is caught in Stages 0-1, the five year relative survival rate is 100%. However, if it's detected in Stage IV, the survival rate drops to a mere 22%.
So readers, I'm challenging you all. If you a women, remember the importance of your annual exams. Men, remind the women in your lives to get their exams as well, and don't forget yourself! Men are not safe from breast cancer either. Although breast cancer is the most frequently diagnosed cancer in women (excluding cancers of the skin), the American Cancer Society states that 1 in 1000 men will be diagnosed with breast cancer this year.
On October 31, you can find me at the Making Strides Against Breast Cancer walk in downtown Indianapolis with my NextGear Capital co-workers. I'm walking for my aunt. Who will you support?