By Andy Sandefer, Manager of Software Engineering
NextGear Capital recently hosted a very successful company day event on October 6 at Purdue University's Lawson Computer Science Center. This event was widely attended by Purdue Computer Science students and faculty and provided NextGear Capital's Technology team a chance to showcase and discuss our Agile software development methodology.
NextGear Capital Technology team members (and Purdue alumni) Brandon Scolaro and Ryan Thompson participated in the event, meeting with several students in an effort to recruit some of the nation's top tech talent.
I, along with Brandon, met with Dr. H.E. Dunsmore and Dr. Gustavo Rodriguez-Rivera, as well as new Assistant Department Head Randy Bond, to discuss exciting future partner opportunities between Purdue and NextGear Capital. As a result of our conversations, our Technology team is currently working on recommendations for new elective courses that we'll be submitting to the Purdue Computer Science Department.
Regarding the event, Brandon commented, "It was an enjoyable day meeting young, talented developers while strengthening our connection with Purdue. Having the opportunity to guide the CS department curriculum is very humbling."
The recruiting event was a big success and I was also excited to serve as Guest Presenter for the CS391 class that evening. My presentation was on Modern Web Application Architecture, and I was very pleased to have an engaged group of students who interacted and participated throughout the presentation.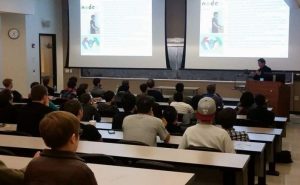 Overall, the NextGear Capital company day event was a great success and we're truly looking forward to coming back in 2016.