At NextGear Capital, we place a high value in education – for both us and our customers. As the summer draws to a close, and many kids throughout the country return to school, we got to thinking about our many back to school moments. Then, we decided to reach out to our employees and ask them to share their favorite or most memorable back to school moment. We were not disappointed by their responses.
Jon Magnin, Communications Specialist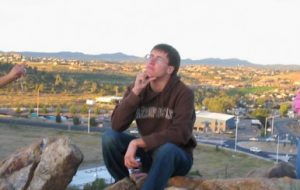 While it certainly wasn't my favorite moment, it was certainly my most memorable. It was my first day of college at Purdue (Boiler Up!) and it was pouring cats and dogs (added bonus – I didn't have an umbrella). I had just discovered that I was on the completely wrong side of campus trying to find my Introduction to Music Therapy class and was walking down the road when I thought I head someone yell my name. As I turned to look, I tripped over my feet and fell smack dab into a huge puddle!
Needless to say, I didn't make it to my first class that day.
Daisy Hibbard, Events and Community Relations Coordinator
I'll never forget the bus ride home on my first day of 1st grade. The bus driver wouldn't let anyone off the bus unless they answered a trivia question correctly. I was the youngest one on board and absolutely terrified of the thought that I might have to sleep on the bus because I wasn't as smart as the older kids.
When it finally came my turn, I walked to the front of the bus and with his hand holding the door handle tight, the bus driver said, "Okay, you can't go home until you answer a question right. Who was the 23rd president of the United States of America?"
All alone on that bus with no one to help me, I just stared at him and replied, "I'm 6. How am I supposed to know that?"
Apparently that answer wasn't good enough. He asked three or four more advanced questions that no 6-year-would would know, like square roots and capitals of other countries. After several minutes he finally gave up and told me to study for tomorrow's questions. Terrified of the thought, I told my mom what happened. She called the school to complain and the bus driver got in trouble for holding kids on the bus against their will. He drove the bus for the rest of the year before quitting to illegally raise wolves.
He also was my neighbor.
Lisa Stevens, Risk Administrator 
There's something to be said for "late in life moms." I don't have much company with other moms who have a 10-year gap in their children's ages, but that's how life goes sometimes.
My best back-to-school story runs along those lines.
In the spring 2008, my eldest daughter Haley  graduated from high school and was making plans for college. She finally settled on Ball State and the plans to send her to college were finally taking shape. In the interim, my son Blake had just turned six in June and had graduated from preschool. We were planning on a fun filled summer before he started kindergarten that fall.
Lo and behold, as it turned out, both Haley and Blake would start school on the exact same day. August 8, 2008. I had one foot in each world. Tearful and proud that my "baby girl" was going off to face the world as a college freshman, I was also tearful and anxious as my "baby boy" rode away from me on the school bus. I can still see him sitting on the bus, gripping the back of the seat ahead of him, wide eyed and ready to go!
Today, Haley  is a successful public relations manager and her "little brother" Blake  is 5'11" and entering the 7th grade.