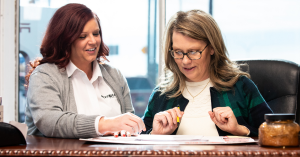 If you're a new or first-time business owner and don't consider yourself a whiz when it comes to accounting, you may feel overwhelmed when thinking about managing your dealership's finances. Fortunately, by following some simple best practices, you can feel confident that you're setting up your independent dealership for success. Here are some tips on how to successfully manage your small business's finances:
Create a Financial Game Plan – Before doing anything else, you need to identify your projected cash flow, expenses and goals so you can create a realistic picture of what it's going to take to run your business each month. This will help you make informed decisions down the road while preparing your business for future obstacles you may encounter.
Make Your Budget Accountable – Just like running a household, you should create a budget for your business. It doesn't have to be complicated, but should be able to help you determine whether or not larger expenditures are paying off. If you don't know where to start, try preparing a draft budget and make adjustments as needed. By having a budget in place that's tailored to your dealership, you'll not only create access to funds for expenses like advertising, but can prepare yourself for unexpected expenses that may come your way as well.
Separate Personal and Business Expenses – Your business account should not be tied to your personal finances, so it's important to keep track of your expenses to prevent them from getting mixed in together. Make sure that you have a separate bank account and credit card for your dealership. By not keeping the two divvied up and accounting for expenses separately, you run the risk of your personal credit score and assets being impacted!
Know the Basics of Accounting – While you don't need to get an accounting degree to manage your finances, you should have a rudimentary knowledge of how it works. Make sure that you thoroughly understand how to read a financial statement and have a basic understanding of terms like accounts receivable and payable. It's easy to educate yourself with free online tutorials on accounting basics from websites like Accountingverse.
Keep Tabs on Your Invoicing – Make sure you're collecting payments and sending out invoices as soon as possible after a transaction takes place. Set short payment terms and always follow up on any unpaid invoices as soon as possible. Too much cash tied up in unpaid invoices can lead to cash flow problems. However, if you have a floor plan, you can use tools like Account Portal to keep track of when your payments are due to help ensure you always have enough cash on hand.
Develop Good Habits – From the beginning, you should establish what your financial processes and procedures are to ensure you're safeguarding your assets. Start by blocking off time each month to review and make any needed adjustments to your financial information. Not only will you become more familiar with how everything works, but it can help you detect any issues like fraud before they get out of control.
Ask for Help when Needed – As an independent dealer and business owner, you shouldn't be afraid to ask for help when needed. There's a network comprised of thousands of dealers just like you all over the country and numerous associations that are available for support and insights when you needed. If you're unfamiliar with things like taxation procedures or have questions about your accounting, you should consult an expert in those areas. Sometimes, a lack of knowledge can cost you money, so don't be afraid to reach out to a third party when needed.
You don't have to be an accounting expert to keep your dealership financials secure but it's crucial to keep track of all your income and spending. By taking the time to do some careful planning and educating yourself as much as possible, you'll be on track to setting your dealership up for success while laying the foundation for prosperity and growth in the future.
Not a NextGear Capital dealer? Contact us or apply today!