Dealers can look forward to new features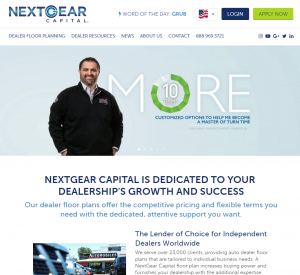 and enhanced capabilities with the launch of the new and improved NextGear Capital website. Core website functionality will remain the same, but improved design and enhanced services and resources means that dealers will get MORE out of their visits to the NextGear Capital website, and in turn, their floor plan line of credit. Highlighted below are just a few of the new features available via our new website.
Improved Access to Dealer Resources
Dealers need more than just a floor plan line of credit to be successful. Accessible resources exploring dealership best practices and industry insights ensure dealers are up-to-date on the latest industry news and trends necessary for dealerships to thrive. This redesign ensures NextGear Capital webinars, industry insights, case studies, videos and white papers from industry thought leaders are easy to access and explore.
Simple To Use Auction Finder
Want to find a new place to source inventory? NextGear Capital's new and improved auction finder tool reveals auction locations locally and around the country. Search by location or name and state to simply find and view auctions in a dealership's surrounding areas.
See How Other Dealers Use NextGear Capital
How do other dealers do MORE with NextGear Capital? A section of the new website is dedicated to individual dealer testimonials. Learn how other dealers use a NextGear Capital floor plan line of credit to build their businesses, improve dealership cash flow and purchase more inventory.
Our enhanced and improved website means that it is easier for dealers to find floor plan financing information when, and where it is needed most. Get MORE out of the time you spend on the NextGear Capital website.
As you use the new site, please do not hesitate to share how we can continue to improve the online experience. We value and appreciate your input. Please provide any feedback you may have here.