Steven Schneider is no newcomer to the automotive industry. He started out as an automotive detailer and has worked his way through almost all aspects of the industry. In 2012, he branched into automotive rental and sought out some financial help.  
"I started out with a competitor of yours to start floor planning vehicles. We were just getting started in a market that was unproven. The payments we were making were killing us, and we weren't near profitability," says Schneider. 
 About a year after struggling with the new business, a NextGear Capital employee reached out to Steven and got him setup with a NextGear Capital floor plan.   
"NextGear had better terms, and I was shocked at how smooth and simple the process was. It allowed us to survive the learning years and build up the company bank accounts."  
In October 2017, tragedy struck Schneider, his family and thousands of others in Sonoma County, California. His house and everything inside were completely destroyed in the Tubbs Fire. They lost everything but remained grateful that they made it out alive.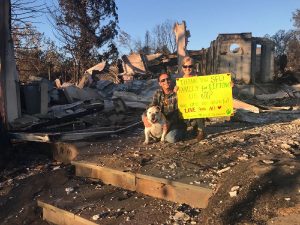 Because of this natural disaster, Schneider reached out to his lenders to make sure he had their support. Lenders that had once promised to help him, began reducing Steve's lines of credit. "The only one who didn't bail on me was NextGear Capital," Schneider says. "While others were reducing my lines of credit, NextGear Capital doubled-down on me." 
Not long after the fire, while Steve and his family were still living in a hotel trying to recover, he noticed a group of homeless people camped out along a river just yards away from the hotel. Seeing this sparked his desire to create shelters for the homeless. "If someone like NextGear can help me when I'm in need, then I should be able to pay it forward and help others." 
This experience inspired him to start Homes 4 the Homeless, a nonprofit that provides low–cost modular housing created from shipping containers to victims of natural disasters.  When Steve shared his idea of turning shipping containers into homeless shelters with his Portfolio Manager, Robert Clark. Inspired by his story, Clark spoke to some of his NextGear Capital team members about the work Steve was doing and, NextGear Capital gave the organization its first donation. "NextGear not only stood by me and my business, but stepped up to the plate and gave my organization its very first donation- which we have framed and proudly displayed in our office." 
He used the donation to launch the nonprofit's marketing efforts and has successfully created a strong online presence which has caught the attention of news stations, celebrities and more. 
With the news of his nonprofit spreading quickly, Schneider knew he needed to find a shipping container supplier quickly. With more than 500,000 people estimated to live without shelter daily throughout the United States. Schneider says Homes 4 the Homeless has partnered with one of China's largest manufacturers of shipping containers and have a supply chain able to deliver thousands of prefabricated modular homes in a timely manner. 
While Schneider's vision of a complete village of container homes hasn't been brought to life just yet, it will soon. Homes 4 the Homeless recently received their first order for 500 container homes! 
 At NextGear Capital, we applaud Schneider and his team of volunteers working tirelessly to bring Homes 4 the Homeless to life. We will continue to support their efforts to reduce homelessness across the United States. 
 Feeling inspired? Visit homes4thehomeless.org to find out how you can help fight homelessness in the United States.