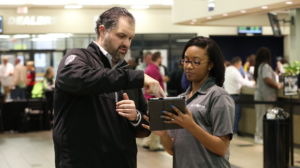 Used car dealers hustle each and every day to acquire and sell vehicles. Frequently, dealers will purchase vehicles with the cash they have on hand. For many dealers, purchasing a car with cash seems like the best option. Buying inventory in cash allows a dealer to own a car in full and the vehicle won't accumulate interest once the vehicle is purchased. Though buying a car with cash seems like a great deal and is a popular option, there are a few key advantages that floor plans for car dealers can offer over cash.
Floor planning can save time
A dealer's time is valuable, and it's safe to say that many dealers don't necessarily want to spend their time taking care of small administrative tasks. However, when dealers purchase a vehicle with cash there will typically be extra paperwork and additional supervision needed to make sure payment for the vehicle is cleared, in addition to following up to ensure the title for a vehicle is handled properly.
Floor plans for car dealers will often offer dealers the convenience of their floor plan lender handling the whole transaction and sometimes, the additional title work required.
Floor plan financing can protect capital from depreciation
Purchasing vehicles with cash might mean that a dealer might be more susceptible to the effects of vehicle depreciation and aged inventory. Since a dealer's cash is tied up in a piece of inventory, they don't have many options until that vehicle sells. As long as the vehicle sits on the lot, the dealer will be limited when it comes to purchasing other inventory or paying for dealership operations.
Utilizing a floor plan lender to purchase vehicles means that a dealer doesn't have to use their own cash to purchase a vehicle. Dealers are then able to make smaller payments over time to their floor plan lending provider.
An auto floor plan lets dealers use cash for other expenses
For car dealers, having an auto floor plan means that they are able to purchase inventory without using the capital the dealership currently has on hand. This allows dealers to use their cash to support the dealership's operations, which can go towards hiring additional staff, marketing, or facility maintenance.
If your dealership had more capital on hand, what kind of changes would you make? Talk to your local representative and learn how floor plans for car dealers can make a difference at your dealership.