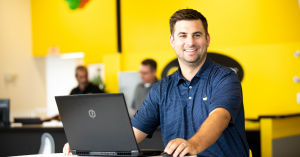 Once considered a luxury, dealer home services also known as white-glove services, have become more commonplace over the past year. Months after the pandemic began, nearly half of shoppers* are still reluctant to visit dealerships in-person. For this reason, it should come as no surprise that there's been an increase in consumers gravitating toward dealers providing a safe, hassle-free car buying experience. Here are some ways independent dealers can implement home services into their operating model:
Start the Sales Process Online – A "touchless" sales process has grown in popularity as 65 percent of car shoppers have stated the desire to complete more of the car buying journey online. Whether it's getting pre-qualified, using an online calculator to figure out payment details, or starting paperwork digitally, providing these tools can attract more serious car buyers while jumpstarting the car buying process.
Virtual Vehicle Walkarounds – As technology improves, more consumers are taking advantage of things like virtual vehicle tours. Instead of spending hours at a dealership looking at different types of vehicles, consumers are browsing from the comfort of their home. To capture that market, try including 360-degree images of your inventory on your website and offering video chat tours using apps like FaceTime or Skype so customers can take virtual tours of the inventory they're interested in purchasing.
Home Vehicle Delivery – As more consumers embrace online shopping and meal delivery services, having a car delivered to their home is becoming another popular offering. Whether it's having a vehicle delivered to their door after purchase or for service pickup and delivery, this is another way dealers can create a more tailored approach to their customer's car buying experience.
At Home Test Drive – Even if car buyers want to undertake most of the car shopping process without having to come into a dealership, many still want to complete a vehicle test drive before deciding to purchase. For this reason, at home test drives are another service that's grown in popularity by providing convenience along with the peace of mind that they're selecting the right vehicle for their needs.
Door-to-Door Maintenance – Once a customer purchases a vehicle, they last thing they want to think about is the maintenance that will be needed down the road. However, if they're having hesitations about whether or not they're ready to purchase a vehicle, showcasing how simple your dealership makes keeping up with suggested maintenance, could be a way to help seal the deal. Consumers are more likely to delay having their vehicle serviced if they have to take time off work or have to arrange for alternate vehicle transportation. You can help eliminate this pain point by offering services like at home oil changes or door-to-door service pickup and delivery.
Even when you can't shake a customer's hand in-person, you can still create a customer-centric experience virtually by providing them with the services and convenience they want. Additionally, in home services allows you to create a more efficient process and the ability to generate additional revenue for your business.
*Cox Automotive COVID-19 Consumer & Dealer Sentiment Top 10 Trends