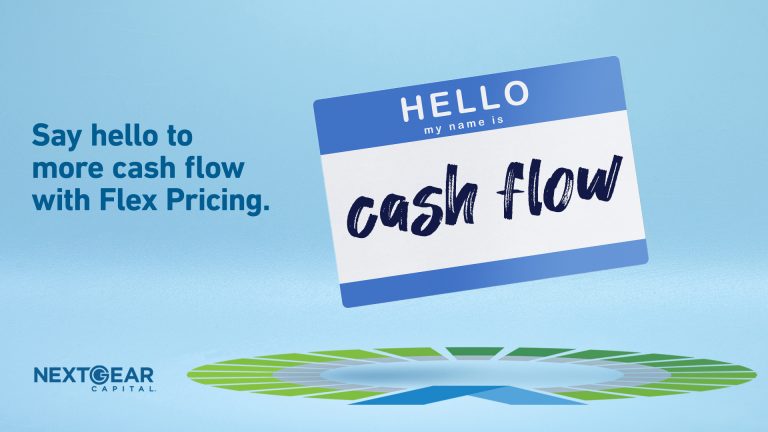 CARMEL, Ind. (April 8, 2021) – In an industry-leading move to improve cash flow for independent dealers, NextGear Capital has introduced a new program for its floor plan financing. The new Flex Pricing program reduces the principal paydown rate to .01% per period – one of the lowest in the industry – and simplifies the payment process by eliminating certain fees. 
"Like most small businesses, cash flow concerns are a common challenge for independent dealers," explained Scott Maybee, president of NextGear Capital. "We listened to our dealers and appreciate that this is a pain point for them and went to work designing a flexible option that gives dealers greater cash flow to invest back into their business."  
NextGear Capital's Flex Pricing program offers significantly lower payments and fewer fees when compared to standard pricing plans. Consider a $10,000 auction purchase. A standard term plan with a customary 10% principal paydown rate would require a $1,000 payment when the vehicle's first principal reduction comes due. With Flex Pricing, the principal paydown rate of .01% produces major savings, resulting in principal reduction payments of only $1. Additionally, the Flex Pricing program eliminates the standard plan's records charge and primary monthly audit fee.  
NextGear Capital provides full-service floor plan financing to more than 22,000 independent dealers nationwide. "Our goal is to be a resource for these entrepreneurial-minded dealers and a partner in driving their business success," added Maybee. "Flex Pricing joins the full range of products, programs and floor plans we offer, all designed to give our dealers choices that work best for their diverse goals and needs."  Ready to get started with NextGear Capital? Contact us or apply for a floor plan.