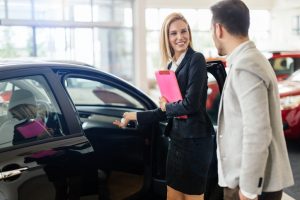 You've got a customer on the lot and you spend part of your evening showing them different vehicles. They seem interested, but then they leave. Why is your dealership missing out on these car dealership sales?
Vehicle buyers move through a complex shopping process. Some buyers want to make an educated buying decision after looking at a wide variety of vehicles on your lot. Other buyers begin with an idea of what kind of vehicle they want, and complete complementary research online.
Approximately 40 percent of buyers like to shop around before making a purchase. This small detail is important because it can indicate that many buyers are not going to buy from you simply because they have not looked around enough yet. However, this can also provide a measure to gauge interest, especially if your sales professional asks, "Have you looked at any other dealerships yet?" Depending on your customer's answer, you can gauge just how ready they are to buy.
One of the biggest reasons customers also don't purchase is because the vehicle they want isn't on your lot. According to the 2017 Car Buyer Journey Study from Cox Automotive, 38% of buyers don't make a purchase because the vehicle they want isn't on the lot. Keeping dealership inventory updated online can be an easy way to ensure potential customers know what exactly is on your lot at any given time. However, beyond that, there typically isn't a lot a dealer can do in this situation beyond asking the customer if they would like the dealership to acquire the vehicle they are looking for.
Unfortunately, about 25 percent of all visitors to your lot are just simply not ready to make a decision. Was there a particular reason your customer wasn't ready to make a decision. Ask why they weren't ready to make a purchase, and if you should follow up with them at a later date. What kind of follow-up efforts are in place for your dealership?
Though customers might not be ready to purchase when they first visit your dealership lot, ensuring they have a good experience can mean a purchase when they return to your lot.