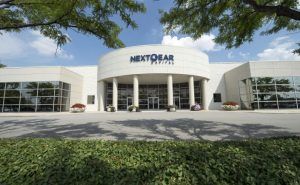 CARMEL, Ind. (Aug. 19, 2015) – NextGear Capital, an automotive financial services provider for auto dealers, announced plans today to add up to 200 new jobs by 2018.
The company plans to make substantial investments exceeding $50.88 million to lease and renovate its corporate offices in Carmel to support its growing customer service and technology divisions. Additionally, NextGear Capital plans to upgrade its technology infrastructure and software to better serve its more than 20,000 customers.
"Indiana stands out as a regional leader for job growth, and companies like NextGear Capital repeatedly choose Indiana as a home for their expansions because of our pro-growth policies and low-regulation business environment," said Governor Pence. "One of our greatest strengths is in our workforce, and after meeting with the hardworking Hoosiers who make NextGear Capital's success possible back in March of 2013, I'm excited to announce today this additional expansion here in the Hoosier State."
Today's announcement marks the company's second expansion in recent years. In 2013, Pence joined NextGear Capital to announce the company's headquarters expansion in Carmel, creating up to 169 new Hoosier jobs. The company has since exceeded those plans, now employing more than 430 Indiana- based associates. NextGear Capital is currently hiring customer service and technology associates. Interested applicants may apply at http://jobs.manheim.com/careers/nextgear-capital-jobs.
"NextGear Capital's success can be attributed to our talented workforce, both here and across the country, who work diligently every day to ensure our customers' needs are met and embody the work ethic and family values that Indiana is known for," said Brian Geitner, president of NextGear Capital.
NextGear Capital serves more than 20,000 automotive dealers with inventory financing services across the United States, Canada and the United Kingdom. The company is a part of Cox Automotive, which includes industry-leading brands Autotrader, Kelley Blue Book and Manheim. Originating more than $13 billion in dealer inventory financing last year, NextGear Capital has become the global leader in inventory finance for independent auto dealers. Recently, the company's chief technology officer Bryan Everly was named CTO of the Year for Private Companies with over $100 Million Revenue by the Indianapolis Business Journal and TechPoint.
The Indiana Economic Development Corporation offered NextGear Capital Inc. up to $1,600,000 in conditional tax credits and up to $85,000 in training grants based on the company's job creation plans. These incentives are performance-based, meaning until Hoosiers are hired, the company is not eligible to claim incentives. The city of Carmel supports the project.
"We were thrilled last year when NextGear Capital moved into its new corporate headquarters in Carmel, which we took as a reflection of the strong high-tech business community we enjoy," said Carmel Mayor Jim Brainard. "NextGear Capital has been one of Indiana's true technology success stories and today's news of another expansion in its workforce is great news for Carmel and all of central Indiana."
Growing companies like NextGear Capital continue to select Hamilton County for their job creation plans. Earlier this summer, nonprofit computer coding school Eleven Fifty Academy and corporate coding firm Eleven Fifty Consulting announced plans to grow their operations, committing to create a combined 92 new jobs in the coming years.