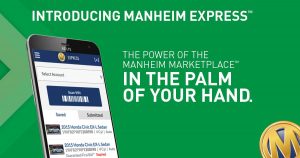 Experienced dealers accept that in order to keep business going, they need a stable stream of inventory to keep their lots stocked. Dealers looking to acquire vehicles have a number of options available to purchase a variety of inventory for their lots. However, it isn't always possible for dealers to take advantage of traditional options like visiting a physical auction, or buying inventory online from a few states away. Dealers need flexible methods to purchase local inventory.
Launching in July, Manheim Express will give dealers unrivaled access to fresh local inventory and trades. Compared to traditional inventory buying channels, Manheim Express offers a few key benefits.
Buy Local Inventory First
When searching for inventory, it's often much easier to look for local buys and trades first. Unfortunately, purchasing inventory from other dealers in the local area isn't necessarily the simplest process. However, dealers that take advantage of Manheim Express have the unique ability to search first for local inventory. Beyond just saving on transportation costs, dealers that source locally have more opportunities to build a bigger network.
See Exactly What You're Going to Get
A few pictures don't always give dealers a full view of a vehicle they're acquiring via digital channels. With Manheim Express, 360 degree imaging ensures dealers have a full view of the vehicle before making a purchase.
Enhanced Seller Disclosures Available
Condition reports provide third-party verification of the current condition of the vehicle. When a vehicle comes with a condition report, dealers can be assured of the quality of the unit they're interested in purchasing. Enhanced seller disclosures on units purchased via Manheim Express can further instill purchasing confidence.
Take advantage of the flexibility Manheim Express provides to purchase local inventory and stock dealership lots. Dealers interested in buying on Manheim Express can learn more by visiting mymanheim.com/express/ or search for inventory by clicking here.