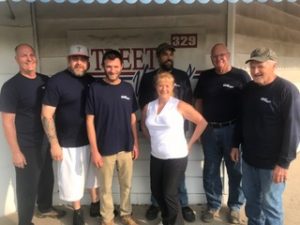 To say Lisa Ferketich's first experience with car ownership was unpleasant is an understatement, "I started living in my car when I was 16 and had been on my own since I was 10. I was a high school dropout but luckily knew how to type, so I was eventually able to get a data entry job at a dealership which is how I started working in this industry."
Ferketich continued working at the dealership but didn't stay in data entry too long. "My boss at the time wanted me to learn what the basic components of a car were, so I started working in the service department learning how to do everything from taking a motor apart to how censors worked." She continued working in the service department even when she moved to another dealership. Once she was given the opportunity to start selling vehicles though, she quickly became the top salesperson at the dealership. But in 1987, women weren't selling cars and she soon found herself caught in the crosshairs. "After four months I was told that the vice president at the dealership didn't want a woman behind the desk because he felt that they should be making coffee instead. So needless to say, I was let go."
Fortunately, it wasn't too long before she was able to find a sales position at another dealership, but even there she continued to face pushback. "The service manager at the time hired me but the owner wasn't happy about it. However, I didn't let that stop me and through my hard work I ended up being the top salesperson at that dealership too. After a few years, that owner apologized to me and said he was going to hire more women to do sales."
Despite all her success, Ferketich eventually got tired of the negative atmosphere at the dealership and decided to take a break from the automotive industry. After working in banking and real estate for a few years though, she started missing working at a car lot and decided it was time to go back. With all of her experience, Ferketich realized that she was more than capable of running her own dealership and that's when she decided to open Street Visions in Telford, PA where she still serves her community as owner and president today.
After being a cash buyer for several years, Ferketich decided to try floor plan financing and since she was already a Manheim client, initially used MAFS. When MAFS transitioned to NextGear Capital, Ferketich stayed with the company who remains her sole floor plan provider 7 years later. "At first, I only financed what I could cover in my bank account and I took baby steps until I got comfortable with managing my floor plan. I like using tools like Account Portal to keep track of when upcoming payments are due." In addition to using NextGear Capital to floor her vehicles, Ferketich is a big user of Cox Automotive products and made the transition a few years ago to using digital online platform tools like Manheim Express, OVE and AutoTrader.
Once COVID hit, just like everyone else, Ferketich had to make some quick adjustments. "You have to adapt as things change. In the beginning, we had to furlough everyone at the dealership, but since we got the PPP money, I was able to bring everyone back." While Street Visions was closed down due to local COVID mandates, she thoroughly cleaned her dealership in anticipation for reopening. Some of the changes she made have become permanent like seeing customers by appointment only, providing PPE and arranging for sanitary test drives and vehicle deliveries. "We do whatever makes the client feel comfortable."
Fortunately, she went into the pandemic ahead of the game through some smart purchasing and her ability to quickly sell off aged inventory. She's also tapped into utilizing resources like the service garage at her dealership, which has generated another revenue stream for her.
Additionally, she implemented some digital retailing strategies into her sales procedures by having her customers complete most of their paperwork electronically, creating a more hands-free, efficient process. She's also updated her website to better showcase her inventory while also focusing on increasing lead generation.
Ferketich is also very passionate when it comes to helping out people in need. "All of my employees know how important it is to take care of people, and that it's not just about selling cars. If I have someone who comes in and is struggling like a single mom, we will work with them to come up with a payment schedule. I really believe that people should look out for each other because at the end of the day, money doesn't buy everything." This philosophy carries over to Ferketich's personal life where in addition to looking out for her customers, she also volunteers to transport elderly & sick people in her community to and from doctors' appointments, pharmacies and grocery stores.
Ferketich's Portfolio Manager, Justina Childs says that she's been a source of inspiration for her. "As a female in this male driven industry, Lisa thrives where others stumble. She does everything from buying to selling inventory and everything in between. She's been successful thanks to a combination of her longevity, staying on top of industry trends and building a great team around her which is evident because she's had the same team for years. She's performed on a very high level ever since she signed up with NextGear Capital and continues to do so today."
When asked if she had any advice to share with other dealers she says, "In order to succeed in the business, you really need to focus. I like my life simple, so I can work with whatever gets thrown at me at work. Having a good support system always helps too like good friends and a good spouse or partner, because you need that balance. I also believe that when one door closes, another one opens. Yes, bad things can happen, but if these things didn't happen I wouldn't be where I'm at today, and most importantly as a woman, perseverance is key."