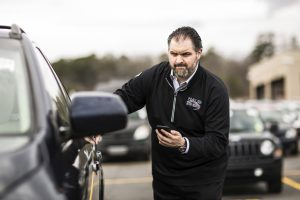 NextGear Capital's Self Reconciliation solution was built to give dealers more control over the auditing process. With the power to reconcile units from the palm of your hand, soon you can begin accounting for vehicles on your lot, your way.
Most floor plan financing companies have an auditing process in place to protect the funds allocated for dealer's retail or wholesale inventory. On occasion, there are scenarios where a vehicle isn't immediately available for an auditor. When that happens, dealers have a contractually determined time frame to reconcile the outstanding units.
Though audits and reconciling units are a fundamental part of the floor planning process, they shouldn't take up more time than necessary. NextGear Capital dealers gain access to a first-rate mix of audit flexibility, functionality and convenience with recent updates combined with a number of other audit process improvements
Extra Visibility with the Account Portal MyAudits Tab
Keeping track and clearing units from your dealership's lot shouldn't be a hassle. With the MyAudits dashboard located within Account Portal, dealers have even more visibility and transparency over the vehicles on their floor plan that need to be reconciled.
Clear Audits Quickly and Simply
Account Portal improvements will soon give dealers the ability to clear audits in real time. All dealers essentially have to do is log in to Account Portal, then take and upload 4 images from inside the platform. That's it! Vehicles are cleared in real-time so additional follow up isn't needed.
A Streamlined, Transparent Auditing Process
The extra transparency from the MyAudits tab combined with Account Portal's new Self Reconciliation functionality mean that only a few key steps are needed to complete an audit.
Plus, with consolidated notifications, reduced account locks, extended reconciliation time and the ability to advise on preferred audit scheduling, dealers have fewer interruptions and more control over an auditing process that doesn't interrupt business operations.
Fewer pictures, fewer steps and reduced interruptions plus real-time clearing highlights one of the most flexible auditing processes in the industry. If you have questions about our auditing process or Self Reconciliation and how it plays into floor planning, please contact us with your questions!