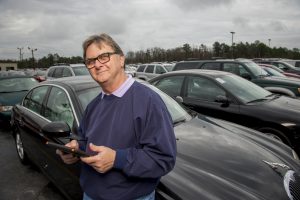 Purchasing dealership inventory with profit potential begins with a dealer's daily choice to have a mentality of discipline and balance. Though selling cars is a primary focus for a dealer, a secondary focus hinges on a dealer's ability to know when it's time to buy more vehicles, to know what type of vehicles to buy, and to know when it is time to get rid of inventory that hasn't sold. So where do you begin to create a culture of discipline and balance for your dealership?
Balance
Part of establishing dealership balance is determining realistic monthly stocking and sales goals. How many units can you sell in a month? How much inventory should your dealership stock? We recommend using three floor plan finance formulas to determine appropriate stocking and sales numbers. With those calculations as a starting point, your dealership should be able to get into a rhythm of adjusting stocking and sales goals based on results and current dealership conditions.
Discipline
Maintaining discipline year-round is crucial to dealership success. It would be easy to let dealership inventory sit on your lot until each vehicle has found a buyer. However, that isn't always the most efficient use of dealership capital or lot space. Making and enforcing dealership inventory guidelines are an effective way to maintain discipline for the cars on your lot.
For example, your dealership could set a guideline for how much your dealership is willing to spend to repair and recondition a vehicle. When at auction, estimate potential repair and reconditioning costs. If a particular vehicle is on the edge of those costs, what factors determine if your dealership is willing to take a chance on that vehicle?
Another way to maintain discipline for your dealership could be addressing aged inventory. Does your dealership have an established exit strategy for aging inventory? If so, is that strategy consistently followed? Establishing a strategy for vehicles at 15, 30, 45 and 60 day intervals gives your dealership a good idea of what to do at any point in a vehicle's lifecycle.
Of course, your dealership guidelines aren't necessarily rules that are set in stone. There may be circumstances where your dealership will need to deviate from normal procedure. However, the specific circumstances and potential return on investment will determine if it's a good idea to depart from normal guidelines
Though the choice to constantly maintain dealership balance and discipline isn't easy, dealership success and profitability will show that it is often the best decision a dealer can make.