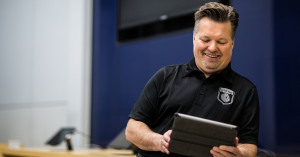 Due to the COVID-19 pandemic, online auctions are increasing in popularity. With some in-lane auctions suspended, independent dealers are now having to buy inventory online or through Simulcast. There are many differences between online and physical auctions, but both allow dealers to purchase vehicles on an automotive floor plan. 
 One of the key advantages floor plan financing offers is the ability to pay for inventory across both physical and digital auction sources. As more dealers purchase inventory digitally, the ability to floor plan vehicles from these online auctions becomes more and more apparent.  
Find an Online Auction 
 Before you make any online auction purchases, make sure you are on a reputable auction website. Some notable online auctions are OVE.com, Manheim Express and ACV. These auctions make it easy to view and sort through inventory. 
When you use your floor plan at any of those auctions, NextGear Capital will send the money for the vehicle directly to the auction. If you find a vehicle you'd like to buy that is not at an auction, like on Craigslist for example, you can still put it on your automotive floor plan. NextGear Capital dealers are able to floor plan non-auction purchases, but doing so incurs a small fee.   
Floor Plan Check-out Process 
Once you find a vehicle you'd like to buy at auction, the process is simple. Before you make a bid, make sure you know the max amount you're willing to spend. Once you have that in mind, all you need to do is make a bid and win!  
 When you win a bid for a vehicle, you'll begin the check-out process. Though every digital auction check–out will vary, a few key options remain the same. You'll have the opportunity to select a method to pay for your vehicle purchase, and a floor plan will often be one of those options. 
By using a floor plan as your method of payment at online auctions, you are streamlining the digital buying process. Many online auctions, like Manheim Express, have integrated floor plan options, helping dealers get gate passed and on their way. 
 Transportation 
After purchasing a vehicle from a digital auction, transporting it to your lot becomes a new challenge. Integrating transportation services into your purchasing strategy can further streamline the digital buying process. Many digital auctions have integrated transportation options. Dealers are able to select a provider and move vehicles directly to your lot. Depending on the floor plan provider and the transportation you select, you may be able to floor plan your transportation charges. 
NextGear Capital has partnered with Ready Logistics, Central Dispatch, and Manheim Express deliver a wholesale buying, transportation and financing solution. By combining four Cox Automotive brands, shared clients in the U.S. can easily add transportation costs to their floor plans with just a few clicks on the Manheim Express app. 
Not a NextGear Capital dealer? Learn more about our automotive floor plans by contacting us or applying today!