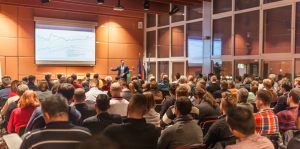 Dealers looking to improve their dealership operations will often need to seek out reputable sources for industry information. With constantly changing industry conditions, it's important for dealers to stay in tune with best practices and network with other dealers. One annual opportunity to get an industry refresh is the National Independent Automobile Dealer Association (NIADA) Convention & Expo in Las Vegas. For dealers who are on the fence about registering for the NIADA Convention & Expo, here are three reasons to consider attending.
Training and Education
One of the major highlights of the convention is the number of educational sessions available. Industry experts and thought leaders will speak on a variety of topics relevant to automotive dealers. Subject matter for these sessions will range from topics on sales and leadership, technology, overall compliance to topics specific to BHPH dealers. The most frequently cited "don't miss" experiences of the conference are the compliance breakout sessions. These sessions dig in deep to current and upcoming legislation that affect dealer business.
Meet Dealer Partners
Dealers will frequently use other tools and solutions to solve individual dealership issues. At the convention, dealers will have the opportunity to meet face-to-face with vendor representatives and learn about the various solutions they offer. While one dealership won't utilize every service available, dealers can take the time to explore the variety of options available.
Network with Other Dealers
Each day of the conference will be spent with other dealer colleagues. With so many dealers in one place, auto dealers will be able to discuss shared struggles and best practices, which can lead to a shared knowledge base, community and sounding board for new ideas.
Get an industry refresh, learn from other dealers and network with potentially valuable dealer partners at the National Independent Auto Dealers Association Convention & Expo in Las Vegas.