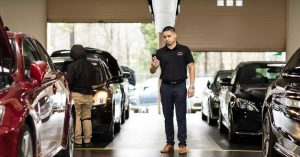 Owning all the cars on your dealership lot can feel very satisfying. You won't owe fees or interest, and when that vehicle sells, those funds go directly into your account. However, it's crucial to consider the full cost of restricted cash flow and everything else that comes with owning a lot full of cars. By floorplanning cars, dealers can lessen the immediate cost of inventory and improve overall cash flow.  
It takes a large chunk of funding to start your dealership, and a steady cash flow to help maintain your dealership. Let's say you have a smaller lot with approximately 20 cars. If each car costs an average of $6,500, that's $130,000 in funds tied up in vehicle inventory, not including team member salaries and other overhead. 
What could those funds be doing if they weren't tied up in inventory? 
By supplementing a cash strategy and floorplanning cars, dealers can purchase inventory without utilizing a large portion of savings. Until the car is sold, dealers only owe minimal payments. Once the car is sold, dealers can immediately pay off the loan amount and gain profits while keeping their funds liquid for overhead and other expenses. 
Converting Cars to Cash 
Dealers will occasionally need a quick cash infusion, especially during these uncertain times. Often, dealers that own their inventory will say that they can always take inventory back to auction or to a wholesaler if there is a need for additional funds. 
 Part of having a comprehensive inventory strategy means wholesaling vehicles at auction, and it can be an important part of your aged inventory exit strategy. However, if you are relying on vehicles to sell at auction in order to get necessary funds, you may want to consider alternate options. 
 There are several hurdles dealers must overcome just to break even on a car's initial purchase price. If the vehicle has been sitting for a while, depreciation will take its toll. It requires additional time and effort to take inventory back to auction, plus buy and sell fees will take a small percentage out of any sale price.  
By using floor plan financing, dealers can offset the full costs of inventory. Instead of paying full price when the car is purchased, dealers can use their line of credit and leave dealership savings available for unexpected expenses or emergencies. 
 Even though it may seem counterintuitive, the cost of using cash can hold your dealership back from accomplishing its goals. Floor plan vehicles to stock your lot and take advantage of the flexibility and the improved cash flow a line of credit offers. 
 Floor Plan Products 
In addition to keeping cash from being tied up in inventory, floorplanning cars can unlock some helpful tools for your dealership. Floor plan products, like expedited funding, transportation financing and consumer loan payoff programs are all things to look for in a floor plan company. For example, NextGear Capital will manage and store titles for all floor planned vehicles. This means that each vehicle placed on a NextGear Capital floor plan has its title shipped to the corporate office to be stored in our state-of-the-art facility, The Vault. Upon receipt, titles are scanned in then uploaded directly to your Account Portal where they can be viewed in full color, 24/7.  
Instead of spending hours hunting down misplaced titles or wasting time finding room in your budget to hire someone to manage them, you'll have more time to spend making sure the inventory on your car lot and online looks like it's just been driven off a showroom and is ready to sell. 
Want to learn more about floorplanning cars? Please apply or contact us for any questions.