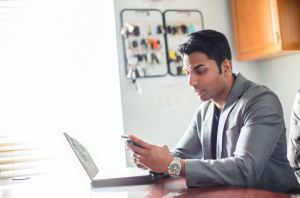 Running a dealership requires cars, cash and inventory management. But where are you investing the bulk of your time each day? Are you out winning auctions or are you knee deep in administrative work? Money could be leaving the dealership because you're not able to invest in what actually impacts your bottom line. Partnering with a floorplan financing provider could provide you with the tools you need to be successful.
NextGear Capital has created technology and dealer resources to keep you focused on what's important to your business.
Title Management
Managing titles can be time consuming and sometimes expensive for a dealership. Titles can be easily misplaced with other paperwork, or even damaged if stored incorrectly. Hiring someone to oversee the title process could affect your bottom line.
With floorplan financing from NextGear Capital, you are offered title management services on every floor planned vehicle. Title management helps keep documentation safe, secure and easily accessible in a cloud-based environment. Titles are shipped to our corporate office to be stored in our state-of-the-art facility, The Vault. Upon receipt, titles are scanned in then uploaded directly to your Account Portal where they can be viewed in full color, 24/7. Dealers have the ability to easily view and manage titles from a mobile device or desktop, even if they've been paid off.
Account Portal
Account Portal is our account management platform that is accessible from almost any device- desktop or mobile. The platform is an easy to use tool that gives you a detailed look into your floorplan financing account, including a comprehensive dashboard that features analytics and payment history.
Account Portal also offers features such as Rapid Pay, Self-Reconciliation and Auto Pay. These tools allow dealers to receive expedited funding, streamline the auditing process, and avoid late payments. To see all of our products, please visit our Floor Plan Products page.
By taking advantage of Account Portal's features, you are positioning yourself for success. With these features, you're able to avoid unnecessary fees that can result from manually managing your business. For a more detailed look into Account Portal, check out our Account Portal tutorials.
Having a floorplan financing lender who harnesses the power of technology to constantly evolve and produce products that give you simple, flexible and transparent ways to enhance your business is key to any dealer's success. To start floorplan financing, apply here or contact us.