On June 13, the 70th Annual National Independent Automobile Dealer Association (NIADA) Convention & Expo commenced at the Mirage Hotel and Casino in Las Vegas, Nevada. Welcoming dealers from all across the country, the NIADA Convention spanned four days, inviting guests to visit the many exhibitor booths and take part in a number of breakout sessions.
As NextGear Capital, we have participated in the NIADA Convention since the inception of Dealer Services Corporation (DSC) in 2006. NextGear Capital exhibited in the Mirage Events Center along with other Cox Automotive business units, including Autotrader and Dealertrack.
This year, NextGear Capital was given the opportunity to create a "Winners Circle" in the Mirage Hotel's rotunda space. On branded racing arcade games, convention attendees were able to race towards the virtual finish line in hopes of placing within the top five participants and receiving a prize. Better yet, the first place winner was a NextGear Capital dealer!
NextGear Capital also partnered with NIADA to award four deserving students with $3,500 scholarships and one with the top honor of a $10,000 scholarship. Randy Dohse, Senior Vice President at NextGear Capital, represented NextGear Capital and addressed the evening's crowd in addition to presenting scholarships to the award recipients.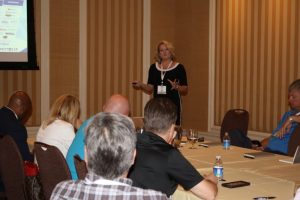 Along with many other exciting facets of the NIADA Convention, NextGear Capital's first meeting with the 2016 Dealer Advisory Council (DAC) was held. This is the council's second year, and the second time the inaugural meeting was hosted at the NIADA Convention. Additionally, NextGear Capital's Vice President of Development, Susan Moritz, led a breakout session Wednesday afternoon for attendees. Her presentation highlighted how to partner through positive disruption, which was presented to a packed room of engaged dealers.
With the excitement of this year's convention, NextGear Capital looks forward to attending the 2017 NIADA Convention & Expo!