In 2007, Cox Automotive's "Drive Away Hunger" campaign launched to support Feeding America, one of the organization's more established community partners. Since its inception, Cox Automotive team members across the globe have participated in the week-long campaign which culminates with CANstruction, after which all canned food items are donate to a local food bank.
"It's very sad when you know the people who typically go hungry in our communities are also the most vulnerable: children, the elderly and veterans. With Cox Automotive's Drive Away Hunger campaign, it educates our team members about hunger in our communities while also showing everyone that you can have some fun while giving back," Daisy Hibbard, Manager of Internal Events and Community Relations, said.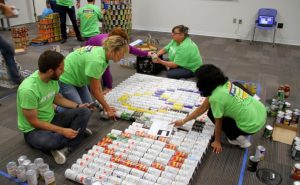 This year marks the second year of participation for NextGear Capital and as a company, we set a goal to raise 10,000 pounds of food among team members around the world.
While the food drive itself is Drive Away Hunger, the campaign ends with CANstruction, an exciting event team members take part in at the corporate office or at their nearest Manheim auction. Team members are grouped by department and create structures using only their collected donation items. Each team competes for the judges' approval and to be able to call themselves the CANstruction champions.
In support of NextGear Capital's efforts to collect food and raise money for their local food bank Gleaners, Cox Automotive matches two dollars per pound of food donated. Last year, Cox presented Gleaners with a check for $13,670 and NextGear Capital made a global impact by donating over 7,000 pounds of food. With the recent release of this year's numbers, we are thrilled to report that we exceeded our 10,000 pound goal.
For the past two years, these numbers have contributed to the story of NextGear Capital's commitment to community. CANstruction would not have been possible without NextGear Capital's compassionate and slightly competitive team members. All teams fully immersed themselves in the campaign and at NextGear Capital's corporate office, one team raised over $1,000 before the campaign even launched. The winning team raised an unprecedented $1,900 for their CANstructure throughout the duration of the campaign.
This year, 13 teams participated in CANstruction, with the winning team for Judge's Choice being Team CanUDigIt. Their structure was judged on its all-around great use of props, space, color, creativity and its ability to catch the eye. Team Waggoneers came in second and won the award for Most Wanted. This structure was judged based on its ability to use the food items that are most needed and its attention to detail.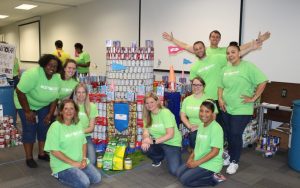 "This is an annual food drive that every single team member gets behind and gets excited about because they love the friendly competition of donating for the cause and building for the prize," Hibbard said.
All of the participating teams successfully collected items that are most in need. These items include canned fruits and vegetables, canned beans, canned soups, rice, granola bars, and much more. With the efforts of the teams here in Carmel, Indiana, over four tons of food were donated to Gleaners Food Bank of Indiana.
If you are looking for more ways to get involved with Gleaners Food Bank of Indiana, click here to visit their website and explore more volunteer opportunities.