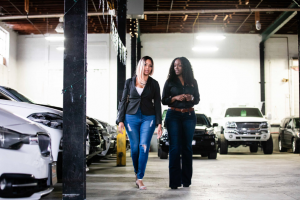 Whether you are just starting out or looking to grow your current business, it's important to have the capital you need to stock your lot. Having cash tied up in inventory can put stress on the business, which is why there are many inventory financing options for car dealers. These options go beyond a typical bank loan. There are companies, such as NextGear Capital, that specialize in financing for independent dealers.
Floor Plan Financing 
A preferred form of financing for independent dealers is floor planning. The terms "floor plan" and "floor plan financing" get thrown around frequently in dealership and auction circles. But what do these terms mean? 
To put it in the simplest terms, floor plan financing works almost like a credit card made solely for purchasing inventory. Similar to a credit card, a floor plan financing company extends a line of credit to a car dealer. Dealers can then use their floor plan line of credit to purchase inventory from auctions and other inventory sources. If a dealer purchases a car on a floor plan, takes it back to their lot and it doesn't sell within a contractually determined number of days, dealers are charged a small fee. As a dealer sells their inventory, they pay back the original loan. 
With a floor plan, the initial investment needed to buy a particular unit is a fraction of the vehicle's actual purchase price. As soon as that vehicle sells to a customer, floor planning dealers can see their profits immediately and pay back the initial value of the loan plus interest and fees. They also have the flexibility to keep their cash on hand for other dealership needs. 
Another independent dealer financing option is working with a local bank. It's important to keep in mind that depending on the type of loan needed for your business, bank funding might be backed with personal assets, such as a home. However, with floor planning, the collateral used is the inventory purchased. For most dealers with floor plan financing, this means it's not necessary to put down personal assets to receive needed funding.   
It's easy to get started with a dealer floor plan provider. In most cases you can receive funding without leaving your dealership. Most companies that specialize in financing for independent dealers have online applications. They will review the application and extend a line of credit based on the information provided. 
How to Use Your Funding 
Buying inventory is the upmost priority for any dealership. Without inventory, there is no car dealership. With any independent dealer financing options, there's a purchasing process involved to acquire inventory from auction and non-auction sources. Depending on the source of funding, what's required from a management standpoint can vary widely.  
Using a bank loan at an auction must follow most of the same processes used when buying inventory with cash. This meticulous process can include keeping track of what funds need to be released and personally making sure titles are correctly managed. Though these tasks are not necessarily difficult to accomplish, they certainly take up a dealer's valuable time and effort.   
Independent dealers that use a floor plan provider to buy inventory have access to products and resources that can alleviate some time and effort and improve efficiencies with administrative tasks. Floor planning dealers can purchase inventory with the confidence that the auction and seller will be properly compensated. In addition, title management is handled on the dealer's behalf, further saving time and effort for dealers.  
No matter how you choose to fund inventory for your dealership, it's essential to select the best funding partner for your needs.  
At NextGear Capital, our purpose is to provide financing for independent dealers. To get the buying power and resources you need, contact us.