Paying it Forward During Challenging Times
Coming from the projects in Chicago, NextGear Capital independent dealer Jermaine Jordan knew what it felt like to grow up poor, worrying about having food on the table. "My mother had 19 children and we never really had a lot of food at home, it was very stressful. So, years later when I got a job as a security guard and I would walk by a homeless shelter, I started bringing food with me to help feed the people there. After growing up the way I did, helping them was something I always aspired to do."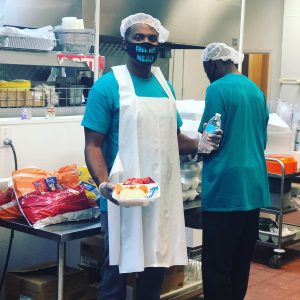 When the pandemic started, Jordan decided to take it a step further and on October 3rd opened Free Healthy Hot Meals, a restaurant located in Chicago's West Garfield Park neighborhood. The restaurant is staffed by his White Diamond Luxury Transportation team, which includes six employees who used to be homeless. Jordan uses the proceeds from his business along with donations to pay for the meals and operation of the restaurant. To date, Hot Health Meals has fed more than 700 people! Jordan also paid for groceries, children's clothing and basic necessities out of pocket that he passed out to customers on the restaurant's opening day.
With the colder months approaching, Jordan is asking for donations so he can continue to support the local homeless community with free meals, temporary shelter, warm clothing and supplies like face masks and hand sanitizer to help protect them against COVID. "My NextGear Capital Portfolio Manager, Kelly Turner, has gone above and beyond by delivering food to the local community and we need more people to do the same. Whether it's volunteering, collecting clothing or donating money, we all need to come together and help each other."
Using White Glove Services to Help Maneuver During the Pandemic
Just like his fellow independent dealers, when COVID struck Zuhair "Zac" Barakat, owner of Highline Auto Sales, he knew he had to make some quick adjustments. "I had to lay off 75 percent of my staff initially, so we had to get much more efficient with our sales process. Even though I was eventually able to hire most of them back, I was glad that I had made changes that have proved to be effective months later."
Part of those changes included implementing some white glove services into their operating model. "I think younger people in particular, prefer to purchase a vehicle online and have it delivered to their home, so we started focusing on including digital retailing services at the dealership. Our customers can now start the car buying process online and have the option of having their car delivered to their home. We pride ourselves in being able to offer "no contact" sales and delivery."
Barakat also looked for ways to help supplement his income. "We have started providing our clients with a loaner car of the same caliber when they need to get service done to use until their repair is completed. By doing so, it helped to encourage our customers to bring their vehicles into our service department which has been another revenue stream for us."
By putting these changes in place and providing a better customer experience, the dealership experienced one of its best months in August, selling 85 vehicles. They're currently focused on putting together a strategy to support more growth. "You have to be involved with every aspect of your business and be willing to change with the times. White glove services were always up and coming, but COVID definitely sped it up and in doing so, changed the car business."
NextGear Capital Team Members Adopt Four-Legged Friends During the Pandemic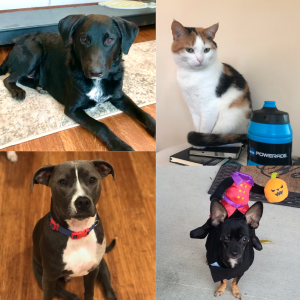 One of the positives that has come out of the pandemic is that animal shelters around the country have seen a huge increase in the number of animals that are being adopted. Whether they were born in an animal shelter, brought in by a good citizen, or surrendered due to a hardship, 6.5 million dogs and cats are brought into animal shelters each year. Several NextGear Capital team members have helped support this cause by welcoming four-legged friends into their homes during the pandemic, including the marketing department which had nearly half of its team members adopt a dog or cat over the past few months. National Animal Shelter Week is November 4th thru the 10th and helps bring awareness to this issue. Their website is full of helpful information and resources for people who're interested in adopting and adding a fur baby to their family.