Bringing New Ideas to Life at NextGear Capital
The energy was high at the second ever Innovation Days final presentations at NextGear Capital. Seats were full with around 100 spectators and participants, waiting to see what ideas their fellow NextGear Capital team members were able to put into concept.
Innovation Days is an event dedicated to bringing new ideas to life at NextGear Capital. From technology for dealers to technology to better acclimate new NextGear Capital employees, this event helps keep the company on the cutting-edge by bringing the Technology team and Business team together to develop new technology solutions.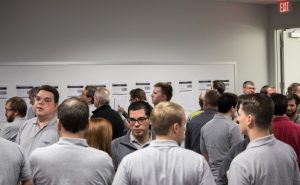 This is the second Innovations Days, but the first time the event was open to all NextGear Capital employees as an opportunity to identify pain points in their daily processes, and develop and present innovative solutions. Tiffany Coulter, Director of Floorplan Services proposed an idea during Innovation Days and was excited about what this event could do for the company and for dealers. "NextGear Capital has some really innovative people here. Putting all these heads together can only benefit our dealers!" said Tiffany.
The Technology team was happy to see 52 amazing ideas submitted from NextGear Capital team members over the two weeks span. Of those ideas, about 20 were pitched for creation. Following pitches, teams broke from their normal work for about two days to focus on bringing these innovative ideas to life.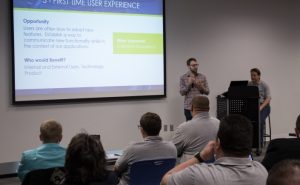 Each team had 5-7 minutes to present their final work. Presentations ranged from early-stage prototypes to fully-developed solutions. These solutions focused on ways to improve the work NextGear Capital employees do on a daily basis, as well as technology solutions that can be utilized by dealers, auctions and the entire automotive industry. It is likely that a number of these solutions will be seen into fruition in 2016.
Tiffany explained what this event offers to NextGear Capital employees, saying, "Innovation Days made it possible for everyone to be involved. It allowed those who deal with problems and issues to be a part of the solution." Employees are excited to have this new touch point, working together to identify and ease day-to-day pain points and striving for continuous improvement here at NextGear Capital.