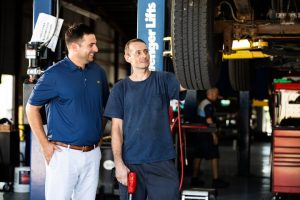 If you're someone who has shied away from using a floor plan financing provider because you take pride in being cash-only, you could be missing out on some of the great benefits floor planning has to offer. Using floor plan financing doesn't always mean you need financial help. Consider complementing your cash buying strategy with a floor plan and keep cash in your pocket. 
What is floor plan financing?  
Similar to a credit card, a floor plan financing company extends a line of credit to a car dealer. Dealers can then use their floor plan line of credit to purchase inventory from auctions and other inventory sources. If a dealer purchases a car on a floor plan and doesn't sell it within a contractually determined number of days, they are charged a small fee. As a dealer sells their inventory, they pay back the original loan.  
With a floor plan, the initial investment needed to buy a particular unit is a fraction of the vehicle's actual purchase price. As soon as that vehicle sells to a consumer, floor planning dealers can immediately realize profits, pay back the initial value of the loan plus interest and fees, and had the flexibility to keep their funds working for their dealership. 
How does this benefit dealers?  
One of the main benefits of floor plan financing is that cash does not get tied up in inventory. Since you can place inventory on your floor plan, dealership keep cash on hand. In addition, the line of credit gives dealers immediate access to funding for emergencies or unforeseen expenditures. 
Trying to convert cars back to cash is a hassle and a drain on you with investments in time, travel and paperwork. Floor planning can help you finance nearly any type of remarketed inventory, freeing up cash flow for the things that make the most impact on your business. You could use that cash to open a service center, make lot improvements or advertise.  
At NextGear Capital, we offered Tiered Pricing. This means dealers no longer pay the same fees for a $2,000 vehicle that they would for a $12,000 one. In fact, with Tiered Pricing floor plan fees are based on your purchase price- nothing more. It's straightforward savings with flexible terms that complement your buying style. Dealers that have taken advantage of Tiered Pricing have seen up to 65% savings on their flooring costs. 
NextGear Capital is innovating the industry in other big ways too. Expedited funding is at your fingertips with Rapid Pay. Floor plan units from your mobile device, overnight titles at no cost and expedite funding requests from any device. We have streamlined the flooring process so now all dealers have to do is acquire inventory when they need it.    
The application process to get started with floor plan financing is relatively quick and easy. To get started, apply here or contact us for any additional questions.