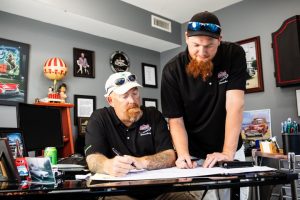 Whether you are just starting out, or looking to grow your business, NextGear Capital is here to help. With a dealership floor plan, it is likely you will be able to find the capital needed to stock your dealership and keep cash on hand. In this article, we will guide you through the first steps in beginning a partnership with NextGear Capital.
Before you fill out a NextGear Capital application, it's imperative that you have some credit. Specifically, you should have a history of utilizing and repaying debt. Bad credit and hiccups on credit history aren't always deal-breakers, but they will likely reduce the amount for which you qualify. Additionally, there is a good chance that credit issues will have a negative impact on the pricing structure for your first dealership floor plan. The good news is that over time, with good performance and the adherence to the terms and conditions, it is possible to eventually overcome these setbacks.
So, you've decided to start a dealership floor plan with NextGear Capital. The next step? You'll get started by filling out an online application. To view the credit application for NextGear Capital, click here.
Once you click the link, you'll be redirected to the application. The first screen prompts you to choose your Country and preferred language. Once you've made those selections, the application will appear in your preferred language. The first set of fields require your contact information. This includes first/last name, Email, phone number and preferred method of communication. Please enter your cell phone or direct line, not your business number. You will be asked for your business number later in the application. It's important to note that we strive to accommodate your preferred method of communication as best we can, but some phone calls and emails may be necessary.
The next section that needs to be completed is your business information. In this section, the first question is asking if you have a Dealer License. If you have a Dealer License, great! If you do not, you will not be able to move forward in the application process. To obtain a Dealer License, you will need to contact your local BMV. In the meantime, you can contact our sales team with any questions or a time frame on when you might be getting your Dealer License.
Now it's time to enter the name of your business and phone number. After you've filled in that information, take a look at your Auction Access card and enter your Auction Access number in the appropriate box. If you don't have the number available at this time, you may continue with the application as it is not a required field. After that, all that's left is filling in your business address!
Once you hit continue, you're a step closer to having a dealership floor plan! A NextGear Capital representative will contact you within two business days regarding your application and will guide you for the next steps. During this call you should be prepared to answer more questions to fully complete the application.