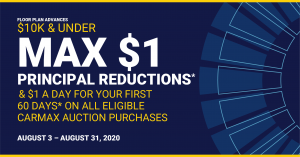 Acquiring inventory continues to be a challenge for many independent dealers months after the start of the current pandemic which is why NextGear Capital joined forces with CarMax Auctions to sponsor our second annual CarMax Month. While last year's collaboration included giveaways and tables filled with promotional items, NextGear Capital knows that its clients' needs have changed and instead of basing our offering on prizes and giveaways, we're focused instead on pricing that helps our dealers acquire the inventory they need.
Through the end of August, we're offering our qualified dealers an aggressive promotional term plan on inventory priced $10K and under that highlights $1 maximum curtailments for 120 days on eligible CarMax Auction inventory. $10K and under inventory is also eligible for 60 for $60 pricing, you can check out the full details of this promotion by visiting nextgearcapital.com/carmax.
CarMax Auctions offer competitive buy fees, an easy to use inventory search with alerts on a wide variety of vehicles and a free AutoCheck® vehicle history report. CarMax Auctions have transitioned to all digital sales over the next few months, so it's never been easier to check out their wide selection of inventory! If you aren't already a registered CarMax Auction dealer, you can sign-up by completing a free one-time registration application. Dealers can also purchase inventory online from any of CarMax Auction's 74 locations by getting setup with Virtual Auctions.
As part of its ongoing commitment to invest in its independent dealers, NextGear Capital hopes this promotion will help them get the inventory they need while retaining their operating capital as they forge ahead in the new digital marketplace. We will continue offering our independent dealers the opportunity to thrive in this ever-changing market and look forward to another successful year of partnership with CarMax Auctions.