How do you ensure your advertisements meet FTC and CFPB requirements?* Dealers carefully budget each year for their advertising dollars and work hard to remain compliant. However, recent FTC and CFPB requirements now restrict what dealers can and cannot do in their marketing and disclosure practices. Additionally, the CFPB is in the process of banning the use of the kinds of arbitration agreements that many dealers use to protect themselves from class action lawsuits.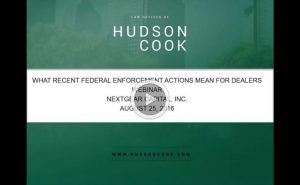 These developments were driven by a few different factors. Namely, federal and state legislation and regulation, dealers and finance companies, technological advances and consumer demand and expectations.
Tom Hudson, the CEO of CounselorLibrary.com and Editor-in-Chief of CARLAW® recently hosted a NextGear Capital webinar, providing dealers with an in-depth look at how these legal developments affect their business, and discussed possible steps to take to consider.
Training: Do you really understand the legal requirements?
Dealers need to have a firm understanding of the law in order to open and run a successful dealership. For smaller dealerships, knowing and understanding compliance regulations can be especially challenging. However, it is helpful to take the time to really dig in and understand the ins-and-outs of compliance. There are a few helpful trainings to get dealers started on earning a deep understanding of their compliance requirements. Tom Hudson recommends the AFIP certification program, the NAF certification program and NIADA training.
Addressing Compliance: Are you ensuring you are following legal requirements?
How does your dealership ensure legal requirements are being followed? Most dealers are regulated either by the CFPB or the FTC. Dealers who are regulated by CFPB requirements are required to have a compliance management system, which is recommended for dealers regulated by the FTC as well. Be sure to check with your dealership's regulating agency to make sure your compliance system follows regulation. If you are interested in seeing more of Tom Hudson's webinar, please click here.
*All rights reserved. Opinions presented are those of the presenter, not necessarily NextGear Capital, Inc. This presentation does not constitute legal advice nor it is intended to constitute legal advice. It also is not intended to establish an attorney-client relationship. The content of and materials related to the presentation are not substitutes for consulting with an attorney regarding one's particular case or situation.