September is Hunger Action Month™, a movement started by Feeding America to get everyone involved locally in the fight against hunger around the country. Hunger is all around us, and at NextGear Capital, we're committed to working with both local and national organizations to combat this issue.
Consider the following stats (via Feeding America and Gleaners):
1 in 9 worldwide suffer from hunger. Conversely, 1 in 6 Americans and 1 in 8 Hoosiers go to bed hungry every night.
In 2013, 49.1 million Americans lived in food insecure households, including 33.3 million adults and 15.8 million children
In 2013, 14 percent of households (17.5 million households) were food insecure
Each and every day, individuals have to make the decision about whether to pay bills or put food on the table. This is a choice that no one should have to make.
So how is NextGear Capital making a difference? I'm so glad you asked
Local Impact
NextGear Capital has partnered with Gleaners, a food bank in Indianapolis, in an effort to help fight hunger in our backyard. The second Friday of every month, NextGear Capital employees spend the afternoon at Gleaners, either inspecting food items for the pantry or packing BackSacks, a program that feeds over 10,000 K-6 children EVERY weekend of the school year.
So far this year, our employees have logged more than 875 volunteer hours for Gleaners while inspecting over 25,000 pounds of food and packaging 4,500 BackSacks.

Additionally, 30 of those volunteer hours have been dedicated to working on Gleaners' committees. NextGear Capital Director of Events & Community Relations Patty Turner is not only a Gleaners board member, but she is also involved with the organization's Advancement Committee. This year, one of the committee's goals was to build an internal food pantry with restrooms.
Every weekend, hungry Hoosiers wait in a line outside Gleaners to claim their food. This is especially difficult during the harsh Indiana winters. As a result, the Advancement Committee worked with Gleaners staff to assess their desires, while Patty collaborated with a NextGear Capital vendor (Schott Design) to create the blueprints for this Community Pantry, which is set to open later this year! This space will include a grocery store layout, along with educational spaces where individuals can learn what to make with the food available in the cupboard that day.
National & Global Impact
Our commitment to ending world hunger extends beyond our corporate office though. Throughout the country, and even abroad, NextGear Capital employees are stepping up to assist in this fight. Whether it's volunteering with their families or sitting on the board of their local food bank, our employees our showing their commitment to community.
In March, 108 NextGear Capital and Rioch (our mailroom partner) employees packed 10,000 meals in less than two hours for Stop Hunger Now. These packages of dehydrated rice/soy meals are fortified with essential vitamins and nutrients and only require a pot, a spoon and boiling water to prepare. The meals are sent to 71 countries who are adversely affected by hunger.

This past June, NextGear Capital employees also took part in the Cox Automotive Drive Away Hunger campaign. Teaming up with Feeding America's nationwide network, all Cox Automotive business units spent June 15-25 collecting canned goods and other most-needed items.
Drive Away Hunger 2015 Collective Efforts
Office
Pounds Donated
Food Bank
US
6,835
Gleaners Food Bank of Central Indiana
Canada
328
Mississauga Fire Department Station 108 "Streetsville"
UK
260
West Cheshire Food Bank
Total
7,423
As a company, our employees donated 7,423 pounds in the US, Canada and UK! What's more, our local donation to Gleaners was the largest corporate food drive donation in the organization's history! Even better, Cox Automotive matched each pound with a $2 donation, totaling well over $11,000.00!
"Gleaners is so fortunate to have an invested community of corporate partners supporting our efforts to lead the fight against hunger across central and southeastern Indiana. NextGear Capital is a shining example of corporate philanthropy, lending both leadership and financial support. From Patty Turner's active and engaged participation on our Board of Directors and Harvest Moon Gala and Board Advancement committees to a phenomenal food drive effort during the June "Drive Away Hunger" event, that brought in nearly 6,900 pounds of food to the food bank, NextGear Capital is the definition of active corporate citizenship."
– Dave Moore, Chief Advancement Officer, Gleaners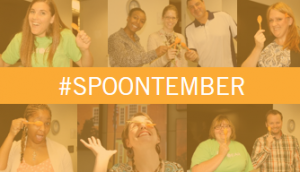 Take Action through Spoontember
With just a few more days left in the month of September, we're now asking you to join us in raising awareness for Hunger Action Month™ by participating in "Spoontember."
Grab a spoon.
Do your best to balance it on your nose.
Take a picture of your 'spoon selfie'.
Post the image to your social media accounts to raise awareness and tag a friend to do the same, using the hashtags #Spoontember and #HungerActionMonth.