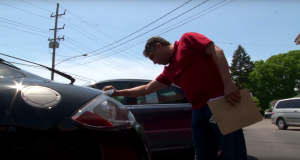 Efficient and simple dealership wholesale financing is an essential part of a wholesale dealer's operation. Though independent wholesaling dealers have a completely different business model compared to auto dealers who specialize in selling to consumers, an independent wholesaling dealer has many of the same inventory financing needs as a retailing auto dealer.
For many wholesale dealers, speed is key. Turning inventory quickly means more revenue for a wholesale dealer. A wholesale dealer's line of credit should be a help to turn inventory quickly, not a hindrance. Like retail dealers, a wholesaling dealer is looking for a wholesale financing provider with flexible terms, title management, excellent customer service and easy-to-use account management. With NextGear Capital, independent wholesaling dealers can access a number of benefits in addition to just a floor plan line of credit.
Fast, Simple Transactions
For wholesaling dealers that use a floor plan and sell directly to independent dealers, chances are that their customers also utilize a floor plan line of credit. NextGear Capital is one of the largest floor plan financing companies in the industry. If you are a independent wholesale dealer who uses a NextGear Capital line of credit, you may find that many of your customers also floor plan with NextGear Capital.
Instead of sending checks and waiting for them to clear, NextGear Capital can make the wholesale to independent dealer transaction simple. For wholesaling dealers, NextGear Capital can simply move the particular unit from an independent dealer's floor plan to the wholesaling dealer's line of credit, and deposit any difference into a wholesaling dealer's financing account.
Title Management
Floor plan companies will often hold on to titles as a form of asset security. For wholesaling dealers, this means that NextGear Capital can primarily handle a number of tasks associated with managing titles, and many wholesale dealers might rarely have to deal with physical title management. Though titles for floor planned vehicles might not be immediately available to dealers, rest assured they're available for viewing through a dealer's account at any time.
Power of the Cox Automotive Network
Backed by the power of the Cox Automotive network, NextGear Capital customers have the unique availability to take advantage of the additional partnership between a number of Cox Automotive business units. For example, dealers can floor plan their transportation costs by taking advantage of NextGear Capital's convenient transportation financing solution.
A comprehensive floor plan financing partner can be crucial to a wholesaling dealer's success. Want to learn more about how a floor plan can help your wholesaling operations? Contact your local NextGear Capital representative here.