Loving the Hustle
Jon Lang is an entrepreneur at heart. He started his own mobile detailing company when he was just 19. After he talked to some of his customers who worked at local used car lots, he realized he could make more money running his own dealership so he spent the next summer flipping a house so he could use the funds he made to open Mountain Top Motor Company at the age of 25.
The dealership was small and only averaged about five vehicles in inventory, but he said he was hesitant to get a floor plan. "I was anti-floor plan at first but then I talked to one of my dealer friends and he convinced me that the only way I was going to grow was by getting a floor plan," he said. "I started with a competitor of NextGear Capital's and then decided to give NextGear a try because they offered better terms and I thought Account Portal was a great platform and easy to use."
Lang is now 11 years and and has seen a lot in that time. He says that he's been lucky through the pandemic. While his business saw a dip in sales at first, he's been doing well since. "It really just takes hard work to thrive during this time," he said. "I always get to the auction early on sale day so I can do my research and feel confident in the vehicles I'm purchasing."
He's planning on expanding by opening a new shop and hiring six mechanics so he can get his inventory ready to sell sooner. All the while, he has continued to floor plan with NextGear Capital to drive his growth. "I could not have achieved what I've done without my NextGear Capital floor plan," he said. "It's been a great partnership."
A Small Town Success Story
You might not expect to find a flourishing dealership in the small town of Muscatine, Iowa, during a pandemic but that's the case at Uptown Motor Sales. Owner David Rood joined the company in 1995 and purchased the dealership two years ago after his partner decided to retire. "I ended up using a lot of the capital I had on hand when I bought my partner out and that impacted my ability to acquire inventory," he said. "So, when I was at my local Manheim auction buying inventory, I saw an advertisement for NextGear Capital and decided to fill out an application. I was immediately contacted by a NextGear Capital representative who told me I was approved for a $250,000 line of credit and I just couldn't believe how easy the entire process was."
Once he had his floor plan, Rood said he was able to quickly increase the amount of inventory he carries. He averages between 55 to 60 vehicles on his lot which is impressive in a town of only about 17,000 people. "The pandemic was incredibly hard on everybody, and it was difficult on us too," he said. "We're really well known in the local area and get a lot of repeat customers, so once people started feeling comfortable coming into the dealership again, the demand was there. Being able to use my floor plan has really helped me keep my inventory levels up and I've been able to turn my inventory almost as quickly as I acquire it. I've also been able to purchase more popular vehicles like trucks, which are always in high demand with my customers."
Even though Rood says his floor plan has been a huge contributor to his dealership's success, he didn't always feel that way and was afraid that it might come with too many strings. He was wary that it would be like having another partner and he'd feel tied down but said it's been a very freeing feeling. "I have every single penny of my floor plan tied up in inventory and I'm able to keep my own capital to do with what I want," he said. "I've also always had a wonderful experience with NextGear Capital. Everyone I've interacted with has provided me with exceptional customer service and my Portfolio Manager really understands the used car business and has been a huge asset to me. I really don't think anyone will be disappointed with a NextGear Capital floor plan."
In-Person Volunteering is Back!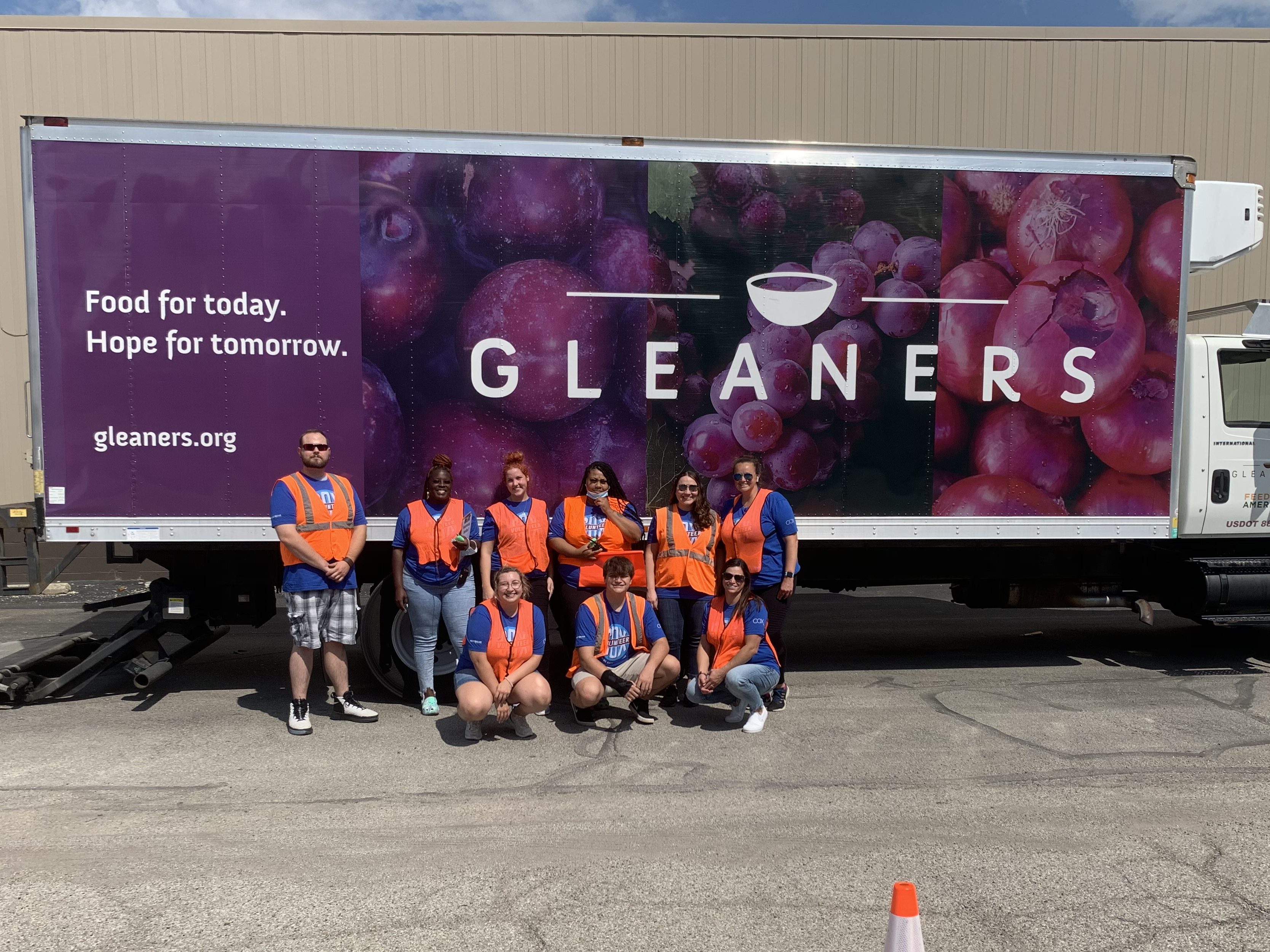 NextGear Capital was able to start volunteering again in-person after over a year of volunteering virtually. One of the most recent events they participated in was in support of Gleaners Food Bank's Mobile CARE event. Volunteers spent two hours loading vehicles with food items for families in need. "As we continue to ride the wave of uncertainty created by the pandemic, organizations like Gleaners are critical to ensuring that individuals and families receive the additional support they need to prevent them from going hungry," said Associate Marketing Manager Natalia Wolting. "I'm glad I was able to participate in the CARE Mobile event not only so that I could give back to the local community but also spend time with some of my NextGear Capital team members in-person again," she said.