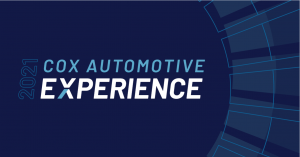 For its inaugural year, the Cox Automotive Experience has been designed to provide dealers with a plethora of useful and timely information so that they can start 2021 strong. The two-week event begins on January 25 and is jammed packed with presenters covering a variety of topics. Here are the top five things you can expect to learn if you attend the Cox Automotive Experience:
Meet New Cox Automotive President Steve Rawley – Rawley is going to be kicking off CAE with the Cox Automotive Town Hall. This will be a great opportunity to hear from the new president including what his goals and outlook for the industry are. Chief Product Officer Marianne Johnson will also be discussing key milestones from a product perspective and what dealers have to look forward to in 2021.
2021 Market Outlook – Dealers will hear from Chief Economist Jonathon Smoke about his projections and predictions on what to expect from the market this year.
Learn How to Create a Personalized Experience – If you're looking for ways to improve the car buying process at your dealership, then you'll want to join Jessica Stafford, Senior Vice President of Consumer Solutions as she walks dealers through best practices on creating the ultimate client-centric car shopping experience.
Client Resilience Panel – If you want to hear how other dealers survived the past year then you should check out the client resilience panel. Independent dealers will be able to engage with other dealers during this interactive panel as they share what challenges they experienced in the past year, as well as what changes they plan on carrying through into 2021.
Create a Winning Wholesale Strategy – No matter how large or small your dealership, inventory challenges were top of mind for everyone over the past year. During this session, dealers will be presented with tips for better understanding market data and the tools available to make better purchasing decisions in an increasingly competitive wholesale market.
Don't miss this opportunity to gain insights from some of the top experts in the automotive industry so you can chart a course to a successful 2021 . To register for the no-cost event, sign up here. You can also sign up for a NextGear Capital product demo here.