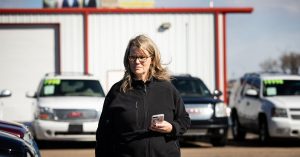 All automotive dealers know there are many different ways to buy and sell cars. The automotive industry is unique in the fact that dealers have many choices in deciding how they want to run their business. Some dealers specialize in high-end inventory, while some cater their business to toward getting their customers in affordable vehicles. 
Even further, dealers have the option to decide how they choose to fund their business. Used car dealers have access to funding options of which they may not be aware, including independent auto dealer floor plans. 
If you have never heard of dealer floor planning, you might want to take some notes. To put it into the simplest terms, a floor plan works like a credit card made specifically for purchasing inventory. Dealers can use their floor plan line of credit to purchase inventory from auctions and other inventory sources. You may have an airline credit card or one for your favorite department store, so why wouldn't you have a tool for purchasing vehicles? Although a floor plan doesn't come with a plastic card you can put in your wallet, it does come with many floor plan products that can benefit your business.  
Is a floor plan right for you? 
An independent auto dealer floor plan fits in with most buying strategies. If you are currently a cash-only dealer, supplementing with a floor plan can help keep some cash in your pocket. Reducing the amount of cash you have tied-up in inventory will free up money for other dealership expenses or improvements. In uncertain times like these, having more cash in your pocket and access to funding can make or break your business. 
For a dealer who is just getting started out, you will need to have a couple things in order before you can start stocking up on inventory.  
First and foremost, to qualify for a floor plan, you need to have credit. Specifically, you should have a history of utilizing and repaying debt. Bad credit and hiccups on credit history aren't always deal-breakers, but they will likely reduce the amount for which you qualify. Additionally, there is a good chance that credit issues will have a negative impact on pricing structure. The good news is that over time, with good performance and the adherence to the terms and conditions, it is possible to eventually overcome these setbacks. 
It is also important that you are not over-extended. If your credit cards are all maxed out, that is a potential red flag even if you have not paid late. Handling your available credit responsibly is essential, so be sure to maintain a substantial amount of available credit.  
Floor plan products 
If you choose NextGear Capital for your independent auto dealer floor plan provider, you get access to many floor plan products and services. Our dealers are able to access vital floor plan information and informative dashboards from any mobile device, anytime of the day through our Account Portal. Within Account Portal, you can enroll in AutoPay, floor non-auction purchases, view titles, and manage audits. In addition, you have access to vehicle valuations powered by Kelley Blue Book, MMR and Blackbook to help make smarter sourcing decisions. 
Ready to see what an independent auto dealer floor plan would look like for your business? Apply here or contact us.