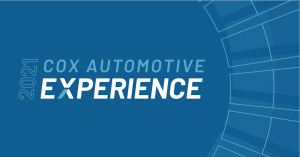 In 2021, dealers will be able to attend the first-ever Cox Automotive Experience (CAE). This free 10-day virtual event will provide dealers with industry insights and solutions to help keep business moving forward in the new year. Unlike in-person events, dealers will be able to have one-on-one interactions with subject matter experts from some of the top brands in the automotive industry in a low-pressure environment.
Events will include a Cox Automotive Town Hall lead by Steve Rowley and Marianne Johnson, panels on topics like Client Resilience lead by Rich Contu, Creating a Personalized Buying Experience lead by Courtney Clark and the 2021 Market Outlook featuring Jonathan Smoke. Many brands will also be unveiling their latest solutions and tech, like NextGear Capital's FirstGear program. Dealers will also have the opportunity to participate in demos from companies like Manheim, Kelly Blue Book, Autotrader and more!
If you've never had the opportunity to attend an in-person tradeshow or conference before, this is the perfect opportunity to test drive all the benefits a convention has to offer in a virtual environment. Make time to create connections with participating brands to ensure you have access to the support you need to make the most of 2021. Another unique benefit of registering for CAE is post-event access to all the content presented which will be available through the end of February.
Independent dealers can schedule their pre-set demo with a NextGear Capital sales team member here.