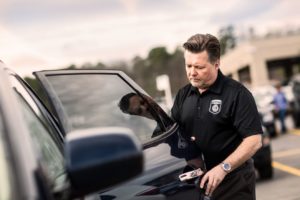 Independent dealers have seen business interrupted by COVID-19's economic impact since as early as March. While customers are no longer spending a lot of time looking at different vehicle models on dealership lots, there are still plenty of people who are in the market to purchase a used vehicle. By taking time for some careful preparation, you can still effectively sell vehicles while keeping your customers as safe as possible. Here are some tips and best practices to help keep everyone healthy during the car buying process:
List Your Inventory Online – It's important that your customers spend as little time as needed physically at the dealership, so having a digital retail plan in place is key. Make sure you have all of your inventory listed online and keep it updated. Provide as much detailed information as possible on the vehicles you have listed and take multiple pictures of each car so that customers are able to view both the interior and exterior from different angles.
Create a Virtual Buying Process – Once customers know what type of vehicle they want, make sure they're able to do things like check their credit or get preapproved while maintaining social distancing. You should also answer any questions they have beforehand either through email or over the phone. Ideally, you should have a customer complete some of the paperwork electronically. Emailing paperwork makes the process as hands free as possible. You should also consider offering them the option of delivering their vehicle to their home once the sale is complete.
Take Precautionary Measures – Once customers are ready to make a purchase, take all possible precautionary steps to ensure you're implementing social distancing. Schedule private appointments with customers so that you're able to limit the number of people who're in the dealership at once. If they still want to come in and test drive the vehicle before signing on the dotted line, make sure that you thoroughly disinfect the vehicle before and after they are in it. Keep your dealership stocked with hand sanitizer and plenty of disposable masks and gloves. And don't be afraid to ask customers to bring in their own pens to the dealership if they need to fill out paperwork, helping to minimize the risk of exposure.
Continue to Make Adjustments to Procedures as Needed – As things change, continue monitoring your processes to ensure you're creating a seamless buying process for your customers, while still keeping everyone as safe as possible. Even if things start to return back to normal, you may want to consider continuing to use some of the new processes you've put into place. Now is a good time to evaluate if the changes you've made have created solutions to existing problems or helped streamline your sales process.
It's hard to know what's going to happen over the next few months, but both customers and dealers alike can rest assured knowing that by taking time to do some careful planning and preparation, they can still sell and purchase a vehicle as safely as possible.