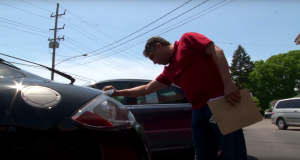 Though audits are a fundamental part of the floor planning process, they shouldn't consume more time from a dealer than necessary. NextGear Capital's annual dealer survey revealed that one of the biggest pain points auto dealers face in their partnership with NextGear Capital was the auditing process. Thanks to this feedback, a number of improvements were made to auditing procedures which have led to up to 80% fewer interruptions for dealers.
Streamlined Notifications
Each and every day dealers and their team members have to attend to a number of phone calls and customer inquiries, in addition to an inbox full of emails. With the improved auditing system, dealers receive consolidated audit notifications. Fewer emails and phone calls asking for reconciled units mean dealers can spend less time managing their inbox, and more time on their dealership.
Account Lock Reduction
For dealers purchasing inventory with their floor plan, account locks due to non-reconciled units can be an inconvenience. With the improved auditing process, account locks due to non-reconciled vehicles are virtually eliminated. If a unit isn't reconciled within the allocated auditing timeline, the vehicle balance is automatically paid off via ACH.
Ability To Advise On Out Of Office Periods
Headed to auction? Going on vacation? NextGear Capital dealers now have the ability to submit requests for a preferred auditing schedule. With an accepted audit scheduling request, dealers can rest easy knowing that their inventory won't be audited at an inconvenient time.
More Time To Reconcile Units
Extended reconciliation timelines give dealers more time to account for floor planned vehicles. More time in conjunction with fewer audit notifications, mean that dealers don't have to feel rushed to reconcile vehicles.
These audit process improvements give NextGear Capital dealers unparalleled flexibility and control over their accounts compared to any other floor plan financing lender. Have fewer interruptions and more time for your business with NextGear Capital as your floor plan financing partner. Want to learn MORE about what we could do for your dealership? Let us know!