Accelerate 2016
To remain the industry's leading automotive floorplan provider, NextGear Capital has to attract and retain top talent. A primary strategy supporting our ability to build the team of impressive, dedicated employees we have is investing in their advancement and growth. Employee engagement and development helps us build a team of local and remote support staff that are committed to your dealership's growth and success.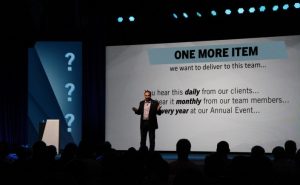 Recently, many NextGear Capital team members spent their week gathered together for Accelerate 2016. This annual leadership conference is an opportunity for NextGear Capital employees from all over the country to come together and review the prior year's accomplishments in addition to the coming year's goals. The conference allows employees the opportunity to brainstorm new ways to work together in an effort to enhance the automotive floorplan services NextGear Capital is able to offer our dealers.
This year's event consisted of sessions led by NextGear Capital and Cox Automotive leadership, in addition to automotive sales experts. These sessions focused on building relationships with dealers, driving value, selling excellence in the automotive floorplan industry and leveraging the resources of Cox Automotive.
The conference provided an opportunity for team members to see what Cox Automotive has in store for the coming year, and left many, including NextGear Capital corporate office Team Lead Andrew Ramey, optimistic for the future of our business. "It's really inspirational to see all of our leaders up on stage talking about what a successful year we had in 2015, and how they plan to continue that momentum this year. There were so many wonderful speakers, not only from NextGear Capital, but also from other companies under the Cox Automotive umbrella. It is truly exciting to see what an advantage our company has because of the products and services we can offer our dealers as a part of the Cox Automotive brand!"
Being surrounded by top talent and celebrating the success of their peers brought many employees back to work feeling a heightened level of inspiration and engagement. Business Development Representative Michelle Spencer said, "the speakers showed us their vision and goals for 2016. It was very inspirational and shifted the gears for everyone who attended the conference."
All in all, Accelerate 2016 was another huge win in the books for our company and the Community Events Team that puts it together. But more than that, the conference will be an even bigger win for the 20,000+ dealers that NextGear Capital serves annually as they directly benefit from the discussions and lessons learned.