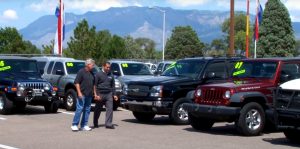 Today's car buyers spend a lot of time looking for a vehicle online. According to Cox Automotive's 2017 Car Buyer Journey, car buyers spend 60 percent of their time online researching vehicles and dealerships. In addition, 98 percent of consumers want the ability to complete at least some of the car buying process online.
Dealers that invest in their digital presence not only have the ability to establish a solid customer touch point, but can also encourage a positive overall dealership experience. Considering that nearly half of all buyers visited the website of the dealership where they purchased or leased their vehicle, dealers that utilize their digital presence are likely to have more customers that are pleased with their vehicle purchasing process. So what digital experiences are customers looking for?
According to the study, the top three things a consumer wants to do on a dealership website are to take a 360-degree tour of a vehicle, reserve a vehicle for a test drive, and have the option to negotiate vehicle price online. Including some of these features on a dealership's digital platforms gives consumers a simple way to view inventory and an easy way to contact your dealership. Customers will appreciate the added access to vehicle details in addition to how convenient it is to view dealership inventory and contact your dealership.
Though consumers appreciate the option to research dealership inventory and negotiate prices online, there are still some barriers between a potential customer visiting a dealership website and a customer visit. According to the study, many customers would feel uncomfortable negotiating a price for a vehicle if they haven't had the chance to test drive it. In addition, 2 out of 5 consumers feel it is still important to have a personal connection with their salesperson.
It's up to each individual dealer to determine how they want to run their digital platforms. However, providing ways for dealership customers to shop according to their preferences will ensure a pleasant purchasing experience that can lead to return customers in the future.