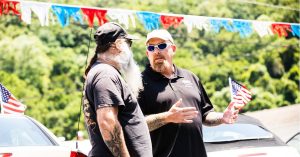 Before looking into the ways an auto dealer floor plan can help you, it's crucial to understand the concept of a floor plan. The way they work are similar to credit cards. In the simplest form, floor plan financing acts as a "credit card" made to purchase inventory to keep their dealership stocked up for consumers.    
The auto dealer floor plan company extends a line of credit to the car dealer. The dealer can then use the line of credit to purchase inventory.    
So, how can a floor plan benefit you? 
#1: More Inventory  
Since floor planning relieves dealers from using their own cash to buy vehicles to stock their lots, dealers can purchase more and sometimes better inventory using their floor plan. With additional inventory, there will be more options for consumers, making sales more likely. Some auto dealer floor plan companies offer fewer purchasing limitations on inventory, making it easier to get the make and model of vehicle the dealer desires.  
The increase in cash flow will give the dealer the flexibility to use cash for other dealership improvements, for example a service center. Enhancements like this can serve as another profit center for dealers that want to find ways to generate more revenue.     
#2: Cover Unexpected Expenses 
While floor plans are known in the automotive world for providing dealers with additional funding for purchasing inventory, many dealers don't know that they can also be used to support other areas of their business and cover unexpected costs. 
For example, dealers should take the necessary steps to ensure that their dealership is running as efficiently as possible. This may include making upgrades to their existing technology or even investing in new software. Floor plans can provide the funding to acquire the technology needed for dealers to remain competitive in a changing world. 
Dealers can also apply the additional financing they're receiving from a floor plan to help support their sales and marketing strategy. Whether it's investing in social media ads or advertising an upcoming promotion, funds can be allocated from a floor plan to cover the cost. 
 #3: Save Time  
Running a dealership involves a substantial amount of time an effort, and a dealer's time is valuable. Auto dealer floor plans are designed to save you time.     
For example, dealers buying with cash have to take additional steps and keep track of paperwork at auction to ensure their new inventory is properly purchased. With a floor plan, dealers can simply bid and put the unit on their line of credit.  
Since there is a constant stream of buying and selling cars, dealers carry the responsibility of managing titles for a variety of different vehicles. Some auto dealer floor plan companies offer title services and innovative online and mobile account management tools. Dealers spend less time managing titles, which means less time spent at the DMV.   
#4: Increase Profits  
It's commonly said that most dealers make money when they buy a vehicle, not when it gets sold. By using a floor plan financing, dealers will be able to see profit almost immediately after a unit is sold. If a $9,000 piece of inventory sells to a consumer for $11,000, dealers can pay off the original loan value plus any fees, all while having the flexibility to use dealership capital for other expenses.  
Some floor plan providers, such as NextGear Capital, offer the ability to guide dealers into making good buys.     
NextGear Capital dealers have access to the Manheim Market Report and Kelley Blue Book valuations from the convenience of the Account Portal. Dealers can use these resources to reassure they are making good purchases.  
Are you ready to start growing your business with a dealer floor plan? Feel free to give us a try by applying for a line of credit or letting us know if you have any questions or hesitations by contacting us or reaching out to your region's representative.