On Thursday, June 16, 2016, the NextGear Capital Technology Department hosted their quarterly Program Increment (PI) planning session cleverly titled 61616 at the company's headquarters in Carmel, Indiana. Although teams were engulfed in planning during the two-day process, non-technology team members were invited to check out the session and witness the various teams planning all of Q3's initiatives.
A primary goal for 61616 was to ensure that NextGear Capital Technology teams are working on projects that align with the business's overall objectives. By focusing on the organization's goals and priorities, Technology team members are able to deliver solutions that will have immediate and lasting impacts. Additionally, NextGear Capital Technology teams strive to remain transparent in their processes and projects, allowing the organization to gain insight into what is being planned for upcoming quarters.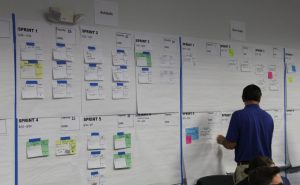 After presentations and speeches from both team members and business partners, NextGear Capital Technology teams broke out to detail their respective plans. Utilizing the office's largest meeting space allowed the various teams to easily communicate with each other. The most important objective of a Program Increment (PI) planning session is to help align the business with the technology aspect of things and Technology's PI planning sessions provided NextGear Capital with an opportunity to have a voice in prioritization and planning.
With 170+ people in one room, the noise level was high, but the focus and ease of communication was constant. The atmosphere was positive and ideas were shared in open conversation, proving the PI planning session method truly promotes teamwork and comradery. Having a collaborative event like 61616 furthers the partnership between the business teams and the technology teams, allowing for continued transparency between the work that the technology department is doing and the knowledge of the company.
NextGear Capital Technology teams successfully created thorough plans for moving forward into Q3, and although these plans are subject to change, the foundation has been laid and there was an alignment of priorities that are now more easily understood by all involved. The success of this event is attributed to the hard work of the technology teams and the willingness of the business to participate and voice their input. The technology department plans to hold another PI planning session to plan for Q4 in the future.