Demonstrating its commitment to new and innovative technology solutions, earlier this month Cox Enterprises hosted the first-ever all division Hackathon. This event brought together bright, imaginative minds from across the Cox Divisions to collaboratively use technology, transforming innovative ideas into working prototypes. Teams were encouraged to think outside of the box to generate new product ideas.
We are proud to share that NextGear Capital's own "Team Beef" walked away with the People's Choice Award for their prototype, HapTrends! The Hackathon included 19 teams, made up of roughly 140 total participants representing brands across Cox Enterprises, Cox Communications, Cox Media Group and Cox Automotive.
The Hackathon's theme was "Smart ______." and Team Beef chose the topic "Smart people," focusing on employee engagement. HapTrends enables employers to measure the happiness and engagement of their team members by leveraging a richer employee profile coupled with dynamic happiness assessments.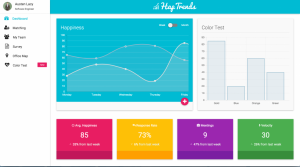 Team Beef was inspired on their chosen topic after seeking some valuable advice. As other Hackathon teams broke into conference rooms to develop their "Smart" solutions within the 24 hour time limit, Team Beef hung back to chat with Ed Wagner, Director of Enterprise Architecture at Cox Enterprises, and Ed Smith, CTO at Cox Automotive. Team Beef interviewed Wagner and Smith about potential overarching themes to decide what would be a productive focus for not just one Cox brand, but for Cox Enterprises as a whole. They found that Wagner and Smith wanted to better understand and engage employees, ultimately increasing retention. Team Beef concluded that employee engagement is often discussed yet seldom measured, and set out to seize this opportunity with HapTrends!
Team Beef was the only team to initiate conversation like this, actively working to discover the needs of Cox Enterprises as a whole, rather than focusing on their NextGear Capital niche. This led to a project that everyone could relate to. Some great ideas were presented, but in the end, only four Cox Hackathon championship belts could be won – Best Overall, Product/ Business Innovation, Engineering Innovation and People's Choice. All Hackathon attendees and participants voted for the People's Choice award, validating HapTrends versatility across Cox Divisions.
In addition to their conversation with Wagner and Smith, Team Beef felt inspired coming off the recent successful Innovation Days at NextGear Capital's Corporate office. The energy and motivation built by the event's production of innovative ideas put Team Beef in the right mindset to produce meaningful solutions at the Hackathon.
Member of Team Beef and NextGear Capital Product Manager, Blake Weishaar, was impressed by Cox Enterprises commitment to producing innovative technology solutions. "It was pretty incredible to see the effort and investment put into the Hackathon. With events like these, it's very easy to see how much Cox values technology, and it's incredibly exciting to know we've established ourselves as a leader across the entire organization," said Weishaar.
Congratulations to Team Beef!

Jeff Lindholm, Development Manager – myNextGear
Blake Weishaar, Product Manager – myNextGear
Brandon Scolaro, Developer – Big Data
Austen Lacy – Developer – Ngen
Nick Taylor – User Experience Designer
More about HapTrends

HapTrends is a solution for measuring employee happiness. Through HapTrends, employees would each have a unique user profile built through survey engagement with additional supporting data drawn from LinkedIn to create user profiles. It would also work alongside "My Career Bio" and other Cox initiatives. The profiles would identify certain personality types for team members, and allow individuals to search a floor plan of their office space for specific personality qualities. Team Beef described HapTrends as a "Match.com" to help individuals better work with their peers. In addition to building better working relationships, HapTrends aims to "humanize" team members.