NextGear Capital's Community Relations Team Holds Two Month Fundraising and Volunteer Campaign for the Humane Society for Hamilton County
NextGear Capital is no stranger to the Humane Society for Hamilton County. Whether it's volunteering at the corporate office by making dog and cat blankets or toys from donated t-shirts, volunteering out-of-house at the Humane Society itself, or raising funds for the variety of programs the organization provides to the animals in their care, NextGear Capital has always been supportive of the Humane Society for Hamilton County.
Founded in 1984, the Humane Society for Hamilton County has an open-admission policy and a no-kill philosophy. More than 3,000 animals cross their threshold each year. Despite that inception rate, the Humane Society has maintained a 98 percent placement rate over the last three years, more than doubling the average U.S. placement rate of 39 percent. The Humane Society's tagline "Love & Let Live" speaks to the shelter's no-kill philosophy of giving every adoptable animal who can be saved, treated, or rehabilitated, a second chance at life.
The Humane Society for Hamilton County holds an annual festival called Woofstock, which raises funds for both the shelter and their Survivor Program. This day-long festival boasts food trucks, adult beverages, live entertainment and interactive activities for both kids and canines. All of these activities are preceded with a walk entitled "Woof It & Hoof It," in which all funds benefit the shelter's Survivor Program. The Survivor Program was established to raise funds to provide lifesaving medical treatment or emergency care to animals in need. Dogs and cats arrive at the shelter with life-threatening injuries and illness, like those with hit-by-car injuries, heartworm diseases, mange, chronic illness, or victims of abuse, and need special medical care to survive.
NextGear Capital team members have participated in the annual walk since 2014. When the Community Relations team learned there was an opportunity for NextGear Capital to be the 2016 title sponsor, plans were quickly put into motion to not only sponsor "Woof It & Hoof It," but make sure that team members had the opportunity to give back in a variety of creative ways. For two months, Wednesdays became "Woof It Wednesdays," with weekly volunteer and fundraising events. Male team members were pitted against female team members to encourage competition and help increase the potential impact for the Humane Society.
NextGear Capital pooled resources from a number of departments to help make the most effective campaign to date. The competitive nature of NextGear Capital team members produced over $2,500, 40 blankets for dog and cat cages, 74 dog toys as well as 65 towels donated during a week-long towel drive – all to benefit the Humane Society. All in all, NextGear Capital team members volunteered a total of 136 hours of their time. Last minute, a member of the men's team made a very large financial donation, bringing the men's team from 450 points behind, to 50 points ahead. Thus the 2016 Woof It & Hoof It Trophy was awarded to the men's team.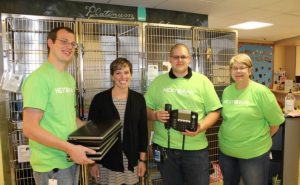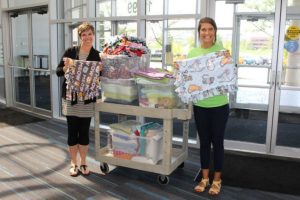 Team members across all departments had a blast participating in volunteer events, fundraising initiatives, and Woofstock itself. Nearly two dozen NextGear Capital team members, family and friends, enjoyed parading their pooches around and representing the company in their snazzy green volunteer shirts.
NextGear Capital stands by its core value of commitment to community, and is looking forward to a continued partnership with the Humane Society for Hamilton County.