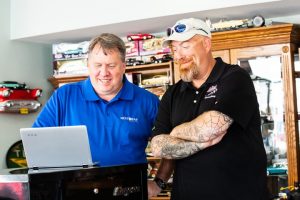 No matter what business you're in, audits are a part of life. For independent dealers, they can be beneficial in keeping tabs on inventory, especially when vehicles are off lot at a repair shop or being reconditioned. Audits can also assist in detecting shortcomings, and help dealerships operate more efficiently while at the same time becoming more profitable. Whether audits occur on a monthly or quarterly basis, failing to keep your car lot compliant can be both risky and expensive.
However, by using NextGear Capital to floor plan your inventory, the auditing process is simplified through our Account Portal platform. In the MyAudits section, dealers can see all open audits or unreconciled units in real-time, allowing them to make more informed decisions on how they manage their floor plan. With only a couple quick clicks, see what units require verification and get a clear, fast path to payoffs.
In the MyAudits dashboard you can also see line items of all your inventory, highlighting:
Audit Due Date
Description
Days on Floor
Today's Payoff
Audit Fees
Audit fees shows you fees that have been already assessed along with any fees that will be assessed in the future if no action is taken.
You can also choose Self Reconciliation to clear your audits in real-time. Clearing audits historically took 3 to 5 hours but thanks to recent process improvements and the addition of Self Reconciliation,dealers can now clear their outstanding audits in less than 10 minutes. Dealers can also delegate the auditing process without having to share their Account Portal login credentials.
Check out our Account Portal Tutorial on Auditing to learn more!
To recap, you can clear audits using your mobile device through the Self Reconciliation product. Simply log in to Account Portal and navigate to MyAudits where you'll be prompted to provide photos of:
Driver Front
Passenger Rear
VIN
Odometer
That's all it takes to clear your outstanding units in real-time!
Audits don't have to be a negative experience and can help you run your business more efficiently by keeping you aware of payoffs and avoiding late fees.
For MORE information on Self Reconciliation, visit https://www.nextgearcapital.com/self-reconciliation/
Not a NextGear Capital dealer? Contact us today at 888.969.3721 to get started.
*Certain conditions apply. All rights reserved. Subject to the terms of dealer's Demand Promissory Note and Loan and Security Agreement with NextGear Capital. Certain valuation information is licensed from and provided by third parties as denoted. Advances made in California are subject to NextGear Capital's California Finance Lender License, #603G505.