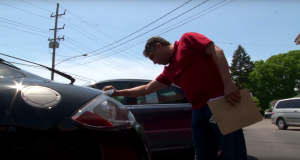 Dealers looking to protect profit margins will often look to increase their overall speed to market. Often, posting vehicle listings quickly can be a vital part of improving the amount of time it takes for a dealer to turn their inventory. Every dealer understands that it will take some time to get a vehicle ready for customers. However, if dealers delay posting vehicle images and descriptions online, they have the potential to lose time and opportunity to show consumers the variety of vehicles coming soon to their dealership lots.
Customers Get an Early Look
On average, the time to get a vehicle to retail is approximately seven to 10 days. Considering all the individual steps that dealers need to account for, like transportation, reconditioning and manually posting vehicle details online, two weeks seems pretty reasonable. However, dealers that post images and vehicle descriptions soon after purchasing a vehicle at auction give customers the chance to get an early look at vehicles they might be interested in purchasing.
Potentially Fewer Costs
For each vehicle on a dealer's lot, there's an associated cost baked into each vehicle purchase. Even if a vehicle is getting transported or getting reconditioned it is accumulating holding costs. The longer a vehicle is on a dealer's lot, the more it's going to cost a dealer to hold on to that particular vehicle. The inverse is also true. If a vehicle doesn't stay on a dealer's lot long, the less it will cost a dealer to hold on to that vehicle.
If customers are able to get a chance to get an early look at inventory coming to dealership lots, they could potentially become motivated purchasers as soon as a vehicle is ready to be retailed. This helps dealers reduce the amount of time a vehicle sits on their lot, and consequently, the amount of money a dealer might spend to keep that vehicle on their lot.
Easy to Use Process
Cox Automotive's Rapid Retail tool helps dealers quickly and simply post inventory online. Instead of dealers taking pictures of inventory and manually adding vehicle descriptions and images, dealers can utilize Rapid Retail to directly import vehicle data and photos from auction into HomeNet's Inventory online tool, make any necessary edits and then post to a number of online inventory sites.
This process allows dealers to quickly and easily post multiple vehicles for sale within a few hours of purchasing them at auction. In addition, it can help minimize the amount of time an employee spends posting individual vehicle descriptions and images.
Accelerate your dealership's time to market with Rapid Retail. Have additional questions? Click here for more details.