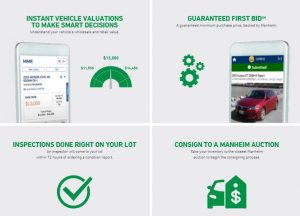 A prevailing truth for many dealers is that what sells well on one dealer's lot might not sell on another dealership lot. Discerning automotive dealers understand that continual cycle of fresh inventory is needed, and when a dealer notices some of their vehicles aren't selling, or that they need to acquire more inventory, flexible solutions to buy and sell inventory are vital.
Of course, every independent dealer has options when it comes to buying and selling inventory. Dealers can go to auction, use digital platforms, or even trade with the dealership down the street. However, independent dealers are often pressed for time, and may not always have the luxury of buying and selling vehicles through those avenues.
Launching later this year, Manheim Express will allow vehicle buyers and sellers access to a fast, easy, self-service method to purchase and offload inventory.
Dealers wanting to sell units will have an unmatched volume of buyers across the entire Manheim Marketplace, which is comprised of Manheim.com, OVE, ManheimExpress.com in addition to OEM-specific marketplaces. Additionally, sellers will be equipped with the information they need to evaluate their selling options after completing a few basic steps on the Manheim Express mobile app.
Scanning a vehicle's VIN will present sellers with the unit's estimated value based on the Manheim Market Report (MMR), vehicle history, and manufacturer information, if available.
From there, a dealer will be able to gauge how they want to retail their inventory; either by getting a Guaranteed First Bid™ (GFB), posting the vehicle in the Manheim Marketplace, ordering an inspection or consigning the unit to the closest Manheim auction location.
Selecting the option to get a GFB ensures that if a vehicle doesn't sell for a minimum set price after being listed for two business days, Manheim will purchase the unit at the GFB price. For dealers who want to sell inventory quickly, the GFB offers dealers the opportunity to have a check in hand in two business days.
For dealers who don't want to list across the Manheim Marketplace, there's also the option to send inventory to the Manheim location of their choice.
Each listing gets shared across the entire Manheim Marketplace, and simplifies the process to create inventory listings. 360-degree imaging lets sellers create tagged images that show extra vehicle details. Additionally, dealers also have the opportunity to order a condition report from an independent inspector. When ordered from the Manheim Express App, an inspector will come to a dealership lot within 72 hours, making inspections easy and convenient.
Combined, the 360-degree images and inspection report give buyers a comprehensive look at vehicles available for purchase, and help to reassure buyers of a unit's condition when buying before seeing it in-person.
Manheim Express buyers have unrivaled access to fresh inventory and local trades. To search inventory available, visit mymanheim.com/express/.
For dealers interested in selling across the Manheim Express platform, download the app from the App Store. Visit mymanheim.com/express/ for more details.
The old inventory of one dealer can be brand new inventory to another dealer. Take advantage of the simple flexibility Manheim Express presents for both buyers and sellers to list inventory right from their lots to the world's largest wholesale marketplace.