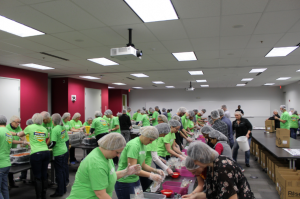 Throughout the month of March NextGear Capital, in partnership with Cox Automotive, holds their annual "No Excuses" campaign to encourage team members to take advantage of the company's volunteering-on-the-clock policy. Over the course of the month, team members across the nation volunteered in activities both in and out of the office to help make a difference in their communities.
NextGear Capital had a goal of reaching 1,500 hours of volunteer time for the month. This goal was shattered when over 2,225 volunteer hours for the month of March were logged, a 148 percent increase over the original goal. In addition, volunteer participation increased 109 percent.
Some of these NextGear Capital volunteer hours were spent contributing to a number of organizations which include: The American Red Cross, Special Olympics Indiana, St. Jude Children's Research Hospital, Gleaners Food Bank and Big Brothers Big Sisters of Central Indiana.
NextGear Capital team members were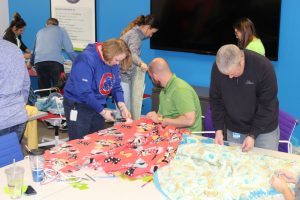 eager to volunteer. "It's easy to get wrapped up in the daily grind of work and our own personal lives," said Lisa Long, North Central Regional Director. "This opportunity was an excellent reminder that while it's important to help yourself, it's even more important to help others." Long spent some volunteer time making no-sew blankets for St. Jude Children's Research Hospital. She said, "It was a fulfilling experience knowing that I was giving warmth and comfort to a child going through a rough time and that this one blanket will bring a smile to a little boy or girl's face."
The results of this year's No Excuses campaign truly speak to NextGear Capital's commitment to community.
49 pints of blood were donated to the American Red Cross
$2,747 raised for Special Olympics Indiana
48 no-sew blankets were hand crafted for St. Jude Children's Research Hospital patients
10,392 meals packed in one hour and six minutes benefitting Rise Against hunger
200 burritos made and packaged for the homeless youth of Outreach Inc.
254 dog toys and 93 catnip toys made for the animals at the Humane Society for Hamilton County
22 team members inspected and sorted 10,194lbs of food which will go towards feeding 8,485 food insecure families in Central Indiana
$10,703 worth of coupons were cut, sorted, counted and shipped to a Naval Base in Yokosuka, Japan for military families to use
259lbs of nonperishable food items donated to St. Mary's Food Bank Alliance
1 home framed for Habitat for Humanity
NextGear Capital is always excited to help others in the community, and the team is already looking forward to shattering goals for next year's No Excuses campaign.