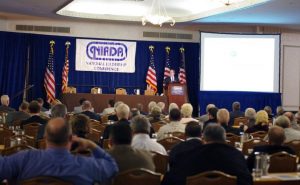 Just as dealers need to be aware of both compliance and legal requirements for their dealership, legislators must be cognizant of the needs of their independent dealer constituents. It would be quite challenging for a single independent dealer to get the attention of a senator, government official or executive. So in order to ensure legislators fully understand dealer needs, the National Independent Automobile Dealers Association (NIADA) hosts their annual NIADA National Leadership Conference and Legislative Summit. Three NextGear Capital team members will be in attendance for the 2016 session to represent the field of inventory finance.
What is the Summit?
The NIADA National Leadership Conference and Legislative Summit is a legislative whirlwind. For three days in September, dealers and industry leaders will meet with senators and government officials to inform them on the state of the industry, sharing the needs and capabilities of independent dealers with the those responsible for voting on the bills and laws that shape the automotive industry. Attendees have the opportunity to bring to light how legislative changes will affect thousands of automotive dealers, essentially serving as the voice of independent dealers nationwide. The goal is to provide transparency and assist in shaping the industry by keeping officials abreast on what they can do to keep the needs and of dealers in mind when drafting, voting and promoting different bills that directly affect the automotive industry.
The conference begins with a briefing session, where all attendees learn about current and upcoming regulations and legislation that could potentially affect the automotive industry. Regulatory agencies, such as the Consumer Financial Protection Bureau (CFPB), the Federal Trade Commission (FTC), the Department of Labor (DOL) and the Department of Justice (DOJ) each present on regulation updates. The following day, attendees split into groups and meet with key legislators to ask questions and discuss upcoming regulations and bills.
Why does this matter?
Industry legislation is discussed, passed and vetoed every day in Washington DC. However, unless legislators are intimately familiar with an industry, it can be difficult to create legislation that is fair to both dealers and consumers. Involving leaders in the automotive industry not only offers a seat at the table, but provides some balance and keeps things fair for both dealers and consumers.
Interested in learning more?
Be sure to follow NextGear Capital's social media accounts, where Vice President of Marketing Susan Moritz will be sharing news and updates live from the event.