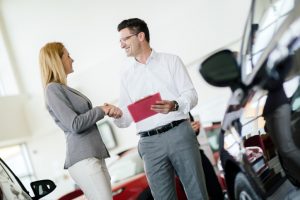 The sale has been made. Your customer is pleased with their vehicle purchase. But does your dealership's relationship with the customer end after the purchase? In an ideal world, that one customer would hopefully refer their friends to purchase vehicles at your dealership, would come back to get their vehicle serviced for maintenance and would purchase their next car at your dealership. However, according to a study from Autotrader, only 46 percent of new car buyers return to a dealership where they have had prior experience, and only 30 percent of used car buyers return to a dealership where they have had prior experience. That means approximately 70 percent of customers that purchase from your dealership don't return. What can car dealers do to encourage those customers to re-visit?
Excellent Customer Service
Though it might seem like a simple concept, excellent customer service is one way to ensure that customers have a positive experience at your dealership. Use your dealership's website and digital presence to let consumers to look at inventory and complete any available purchasing activities. If and when customers visit your dealership, let them leverage their knowledge they've obtained prior to their dealership visit and let them lead the conversation. In addition, minimizing the number of staff members a customer has to meet with can help to increase customer satisfaction.
Don't know where your dealership could improve its customer service efforts? Encourage customers to complete a survey with questions about their experience. Look for consistent trends, and make any necessary operational changes based on those survey results.
Offer Incentives
One simple way to encourage a customer to revisit is to offer some incentives. For example, a dealer could give customers two free oil changes and tire rotations after every vehicle purchase. This incentive gives a customer a reason to return, and it gives your dealership another touch point in addition to the opportunity to show off your dealership's excellent customer service.
When dealers give their customers a great experience and a reason to return, those customers are sure to re-visit, and will hopefully re-purchase.