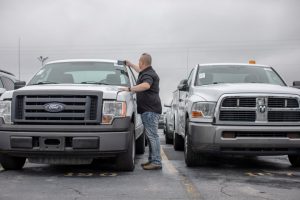 A wholesale dealer relies on turning vehicles quickly in order to make a profit. Independent wholesale dealers are faced with a completely different set of challenges than retail dealers, but still share many of the same inventory financing needs. This means that they need a wholesale financing partner that not only understands their business but has the right tools and features available to ensure the funding process is quick, efficient, and simple.
Account Tools and Features
Dealers utilizing wholesale financing need to have access to their accounts and information about the vehicles on their floor plan at a moment's notice. With Account Portal, NextGear Capital dealers have exactly that. They can see detailed information on each vehicle as well as critical industry data to help them make smart business decisions.
Tiered Pricing is another tool that wholesale dealers can take advantage of. With NextGear Capital, they have truly flexible term plans that complement their purchasing style. Flooring costs reflect the price of the inventory.
Managing Titles
When getting wholesale financing through NextGear Capital, dealers don't have to worry about managing titles and all the administrative tasks costing time and money associated with that. This is especially beneficial to wholesale dealers, since they rarely will have the time to deal with management of the physical titles. Dealers can view titles on their account at any time and can get them sent to their dealership by the next business day.
NextGear Capital's Vast Network
As one of the largest floor planning company's in the industry, many independent dealers have NextGear Capital lines of credit. Wholesale financing through NextGear Capital means that you can easily move a unit from an independent dealer's floor plan to the wholesaling dealer's line of credit and deposit any difference into a wholesaling dealer's financing account.
Want to learn more about wholesale floor plan financing with NextGear Capital? Reach out to your NextGear Capital local representative or contact us.